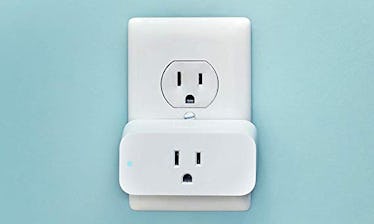 Take Your Alexa-Enabled Device To The Next Level With One Of These Smart Plugs
To make the most of your Alexa-enabled device, you've got to have the best smart plug for Alexa, naturally. These smart plugs, designed specifically to work with voice assistants like Amazon's, make it easy to customize your commands and automate your smart home. That said, using them is, well, smart, as they'll help you save money in the long run with specs like energy-saving scheduling features and timer settings.
How To Choose A Smart Plug: 2 Things To Consider
Choosing the best smart plug is easy. Here are a couple things to keep in mind.
Compatibility. Obviously, check to make sure the plug you choose is compatible with your Alexa-enabled device as well as your smart phone and the appliances you plan on using it with. If you want to connect larger devices (like a space heater), you'll need a plug able to support the standard, 15-amp outlet.
Size. Some plugs are bulky and take up lots of space. Not ideal? For a sleeker — yet super functional — look, opt for an unobtrusive, compact design that'll free up your second outlet.
With all this in mind, read on for a quick rundown of the best smart plugs for Alexa available on Amazon.