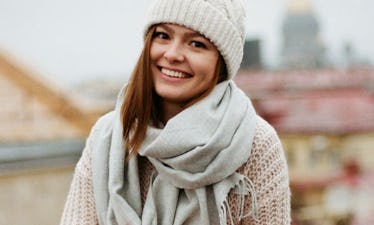 These Are The Coziest Winter Scarves You Can Get On Amazon, So Bundle Up
Lyuba Burakova/Stocksy
Venturing outside in freezing winter temps is no fun, but having one of the best scarves for winter on your neck will make it a lot more bearable.
How To Find The Best Winter Scarves
As you search for a quality scarf, look for options made with thicker, warmer fabrics (like wool or acrylic). These materials offer protection against chilly weather by acting as insulators on your skin — without feeling itchy. Then, consider your preferences in terms of sizing and colors. If you love being as bundled up as possible, go with an oversized blanket scarf. They're huge (hence the name) and versatile in terms of style. However, if you're not a fan of bulky layers, try a traditional two-end option or an infinity scarf instead. Color-wise, there are a wealth of options, from bold colors to neutral tones and eclectic patterns.
No matter your personal preferences, you'll find something that works for you in my list of the three best scarves for winter, below. Each of my picks uses heavy-yet-comfortable fabrics that'll keep you protected from the cold and swiftly become a staple in your wardrobe. Read on to choose your favorite. Spoiler: All three are available on Amazon.