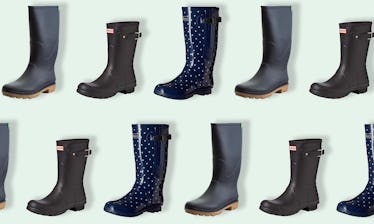 These Rain Boots Are Total Game Changers If You Have Wide Calves — & Here's Why
Amazon/Elite Daily
Finding rain boots that fit wide calves isn't always an easy task, but I'm here to tell you that it is possible. To help you out, I've compiled a list of the best rain boots for wide calves.
First, some background. Wide-calf boots, which are offered by many footwear brands, typically include boots with top openings that measure 16 inches or more in circumference. Some shoe companies even offer boots with top openings up to 24 inches, though these sizes are less common.
Even if a boot's opening isn't wider than 16 inches, there are other factors that could make it better suited for wider calves, like adjustable straps. And to avoid a potentially awkward fit entirely, short boots that hit just above the ankle (versus the mid-calf) are great alternatives, as they minimize any unwanted pressure on your legs.
Here, I've included a variety of cute rain boots that meet these guidelines. Keep reading to find your new go-to pair. I've included comfortable, flexible boots that are equal parts stylish and functional in wet weather. What's more, I've categorized these wide-calf boots by price, making this list super easy to skim for the best option within your personal budget.