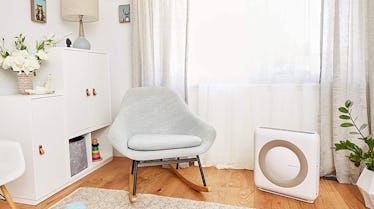 These Air Purifiers Are So Quiet (& Effective!) You Won't Even Know They're There
Amazon
Bringing an air purifier into your home serves a significant purpose — to improve your indoor air quality — but they can often be quite loud. For that reason, the best quiet air purifiers have a decibel rating below 25 on their lowest setting (for reference, 30 decibels is about the equivalent of a whisper) and a max of 54 on their highest (similar to the subtle hum of a refrigerator). You'll also want to pay attention to the maximum number of square feet the unit can handle before you make your purchase.
Besides decibel ratings and coverage zones, here are a few other key specs to ensure your machine will meet your needs:
Filters: The two most widely used filters in purifiers are a true HEPA filter, which the gold standard because its certified to remove at least 99.97% of particles as tiny as 0.3 microns , and an activated carbon filter, which is used only in conjunction in a HEPA filter to take care of smoke and other smells. As you shop, though, keep the manufacturer's recommended replacement schedule in mind so that you can factor in the cost of refills to your budget. (To make this maintenance task easier on you, some models are even designed with reminder light.)
Features: Your purifier should run 24/7 if you want to maintain high air quality, but if you're concerned about managing energy costs, you can find models with an auto and/or "eco" function that adjusts to optimal speed for you. And if you're particularly focused on a quiet machine so that you can snooze uninterrupted, you may also appreciate a device that won't emit light at night.
With all that said, take a look at the three quietest air purifiers you can buy on Amazon below, each with a decibel rating no higher than 25 on low.
We only recommend products we love and that we think you will, too. We may receive a portion of sales from products purchased from this article, which was written by our Commerce team.