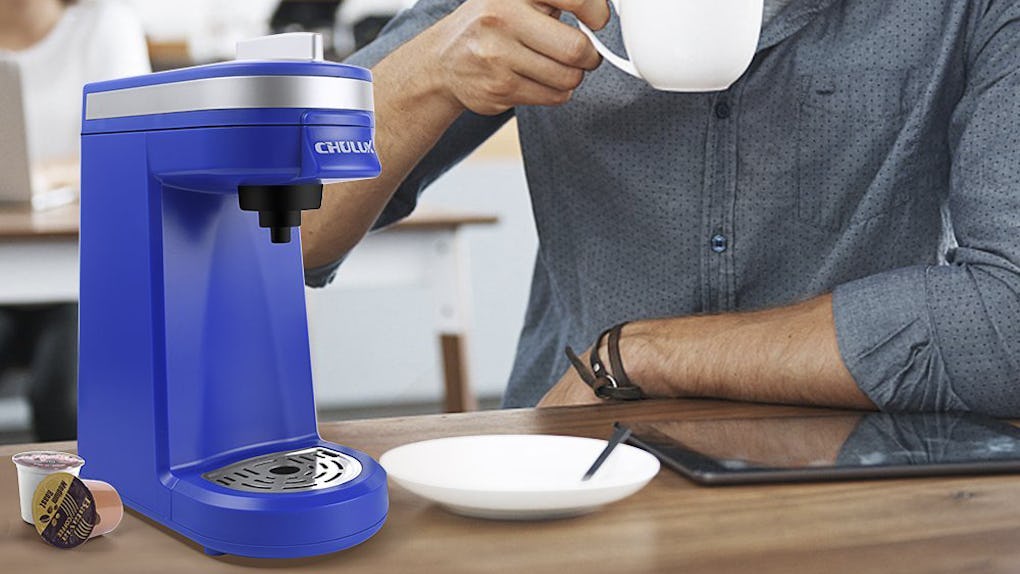 Amazon
The 3 Best Portable K-Cup Coffee Makers
There are few things that provide the same amount of comfort as a home-brewed, hot cup of coffee. And when you're on the road, it's important to bring little things with you. That's why coffee-loving frequent travelers need the best portable K-cup coffee makers. Who wouldn't want to make a cup of joe anytime, anywhere?
The Best Travel-Friendly K-Cup Makers Tick All The Following Boxes
They're compact and easy to stow in bags of all sizes. Sure, some are more complex than others, but all portable coffee makers are, indeed, portable.
They function with standard-sized K-Cups — including refillable ones. Even if you run on Dunkin', it's always nice to have options.
Optional: They have built-in water filters. This is a particularly great feature if you frequently travel to areas with unsafe drinking water.
Without further ado, it's time to find your new favorite coffee machine. Lucky for you, I've already researched the smallest K-Cup makers on the market. From a manual device that can provide fresh coffee when you're miles away from civilization to a premium K-Cup maker that produces a highly sophisticated brew, here are three of the best portable machines you can get on Amazon. Want more coffee options? Check out the best cold brew coffee makers, too.
1. The Overall Best Portable K-Cup Coffee Maker Considering Price & Size
Making quality coffee on the go is almost too easy with this single cup coffee maker from Chulux. It's a one-touch machine, meaning all you have to do is insert a pod and press a button to get fresh coffee in three to five minutes.
Boasting a compact design and a weighing in at just under 3 pounds, this machine can go anywhere. It's compatible with all kinds of pods — including K-Cups, obviously — and comes with a removable drip tray and a 12-ounce water reservoir. Plus, thanks to its cool-touch exterior, you don't have to wait for it to cool down before you pack it back up.
Quality review: "We bought this for its small size to travel with. It easily fits into a checked bag and works great. We like coffee when we first wake up without having to get dressed and go to lobby or wherever hotel is serving coffee. Works great with K-Cups and really doesn't take that long to brew. Perfect for what we were looking for."
2. A Premium Machine With The Specs To Backup Its Higher Price
If you're after extra features, go for Knox's K-Cup maker. Like all the options on this list, it's compact, lightweight, and functional with K-Cups of all sizes. (Psst — it can even make espresso!) Unlike the option above, however, this one has a built-in filter basket atop its water tank.
But here's the best thing about it: Instead of using the standard drip method you'd find in most K-Cup coffee makers, it uses four water jets to fully soak the grinds and create a 12-ounce cup of ultra-smooth joe in just three minutes.
Quality review: "I love this thing! Super portable and it even brewed pods my full size had trouble with. I tried a bunch of K-Cups out to make sure it worked before I packed it away in the travel kit."
3. A Manual K-Cup Maker That Doesn't Need Electricity To Work
This manual, BPA-free K-Cup coffee maker from BRBHOM is the most portable considering you literally don't even need to plug it in. Its plug-free design and built-in filter basket ensure you're able to make hot coffee anywhere — right inside your favorite travel mug.
It works with all kinds of K-Cups and comes with a reusable filter should you want to add your own grounds from a larger package. Brew time is just five minutes, and cleanup is super easy, too, simply requiring a rinse and an air dry.
Quality review: "Easy to use (I tried it with K-Cups) and cleanup is as simple as a quick rinse. Perfect for travel & camping! I'm ordering a second to have a spare. Water cup has built in measuring marks, and the pieces that pierce the cup are sturdy."
Elite Daily may receive a portion of sales from products purchased from this article, which was created independently from Elite Daily's editorial and sales departments.