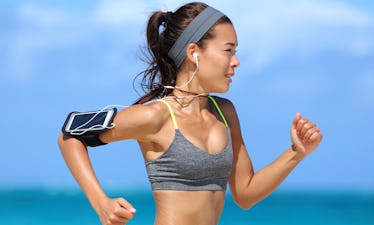 Make The Most Of Your Runs With One Of These Sweat-Wicking & Protective Armands
Shutterstock/Maridav
If you want to take your phone with you on runs and workouts, you'll need one of the best phone armbands for running. Armbands provide you with hands-free access to your phone, making it easy to access your favorite playlists or take calls as you hit the pavement. They're also great if you use a tracking app to log your runs or locate new trails.
These handy accessories vary in both function and style — but they should always be durable. You can find phone armbands that wrap around your arm, but there's also other styles like compression spandex armbands that help eliminate unwanted chafing. No matter which style you choose, make sure it has a protective case or is made with a moisture-wicking material to ensure your phone doesn't get damaged along the way. For maximum comfort and functionality, you'll likely want one that's adjustable with a little storage for things like your keys or credit cards.
To help guide your armband search, I've already compiled a few different options worthy of storing your phone. They all come highly rated by reviewers on Amazon, so I know there's a quality pick for you here. Read on to choose your favorite, then check out the best earbuds for running.