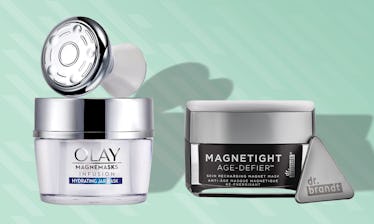 Take Your Skin Care Game To The Next Level With These Futuristic Magnetic Face Masks
Elite Daily/Amazon
In today's skin care-obsessed society, it can be hard to keep up with all the new delivery technologies and ingredients-of-the-moment to try. The latest innovation? Magnetized skin care — or more specifically, magnetized face masks. If you're interested in trying out the trend for yourself and/or want to make sure you're not wasting your money on something gimmicky, then let this curated list of the best magnetic face masks be your guide.
While there are a few variations of the magnetic face mask, they largely work the same and need to be applied to just-cleansed skin (similarly to any face mask, really). But here's where they differ. You'll mainly find iron-based formulas on your magnetic mask search, which come with both a mask and a removal device that you glide over your face (after the required five to 10 minutes) to pick up every last trace of product — no rinsing required. Even without water, the mask is able to purify skin because of the micro-current the iron particles create when used with the magnetic removal device. There are also leave-on magnetic masks, which use magnets to encourage ingredients to penetrate deeper. Rather than purifying your skin, these types of masks work to nourish, moisturize, and boost elasticity.
To find your magnet match, here are three of the best magnetic face masks you can apply right at home.