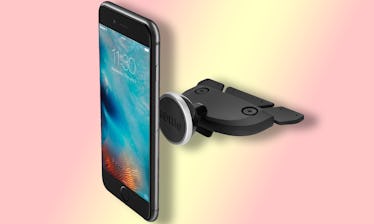 These Magnetic Car Mounts Will Make Using Your Maps App *So* Much Easier — & Safer
Amazon/Elite Daily
Making hands-free calls, listening to your favorite playlist, or using your phone as a GPS — all while driving safely — is easy with the best magnetic car mount. These mounts feature tiny magnetic plates that adhere to your phone's case. Once attached to the base, you get a discreet and secure hold that can be quickly removed when you arrive at your destination. And unlike cradle mounts that grip your smartphone from the sides, you don't have to worry about a bad fit.
There are only two things you need to consider when you're looking for the best car mount. The first is placement. Car mounts can be placed on your air vent, CD slot, dashboard, or windshield. In certain states, the use of windshield mounts has been banned, so definitely check your state law requirements before you buy one. It's also important to note that magnetic car mounts have been known to interfere with the wireless charging features in some newer phone models. (Look for protective films or additional magnet placement options to prevent this.)
To make selecting the perfect car mount easier, read on for a quick guide to the best magnetic car mounts available on Amazon.