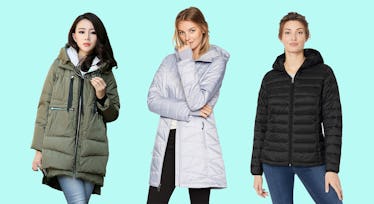 These Stylish, Lightweight Jackets Will Still Keep You Toasty Warm In The Dead Of Winter
Amazon/Elite Daily
When the temperatures drop below 40 degrees and the cold weather creeps in, the best lightweight winter jackets provide serious warmth and protect you against the elements without making you overheat. They're also easier to pack and take up less space in an already crowded coat closet, major pluses when your only other alternative is a puffer jacket or a heavy winter coat. But regardless of where you plan on wearing your jacket, there are a few things to know before you buy.
First, the biggest difference between a lightweight winter jacket and just any ole thin coat is the lining. Most jackets will have only a basic inner lining. In contrast, winter-ready lightweight coats will feature actual insulation built into the lining, making them that much warmer. This insulation is usually made from either down feathers or a synthetic, high-tech material that can heat up as you move.
While some lightweight jackets can be pricy, it's worth the investment if you don't want to freeze your butt off anytime you step outside during the winter months.
With that said, take a look at my picks for the three best lightweight winter jackets you can buy. They are all stylish, warm, and seriously great deals.