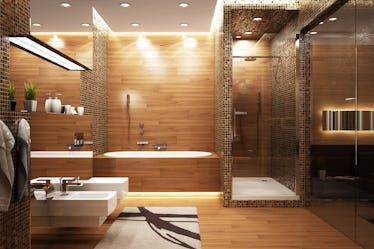 Let There Be Light! These Are The Best Bulbs If Your Bathroom Has No Windows
fotolia/slavun
In any room without windows, choosing the right lighting is imperative. But, it's especially true with a bathroom. Not only is your bathroom a moisture-rich space (and moisture plus darkness equals bacteria), but whether you're shaving or flossing, you'll need light to see what you're doing. The best light bulbs for bathrooms with no windows, then, are bright, white bulbs that can illuminate your entire space.
When looking at the light bulb specs, one of the most important things you'll want to consider is lumens. The term lumens refers to the amount of brightness a bulb gives off — for reference an average light bulb gives off around 800 lumens. For a windowless bathroom look for a bulb with at least 2,000 lumens, so that it can produce enough light to compensate for the lack of natural lighting in your space.
You'll also want to opt for an LED bulb. Compared to standard, halogen, and CFL bulbs, LEDs are more energy-efficient and will last you longer. In fact, LED light bulbs can last you decades (literally!), are safer for the environment, and they'll save you money on your energy bill, as well.
And, if you know you'll be doing your makeup in your bathroom, look for a warm, white light bulb great for makeup application. These bulbs simulate daylight indoors, so your bathroom will feel less like a dungeon and more like a space you can comfortably spend time in.
But, enough with the specs. Here are the best light bulbs for bathrooms with no windows.