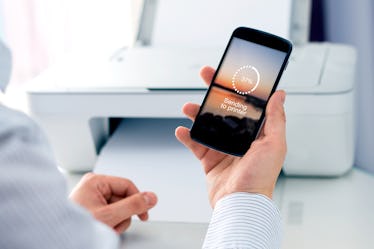 These Printers Will Bring Your iPhone Camera Roll To Life — & Yes, You Need One
Daniel Krason/Shutterstock
The camera quality on iPhones just keeps getting better, and that's why the best iPhone printers are such a worthy investment. There are plenty of options available. Depending on your needs, you could get a portable mini printer for smaller images or opt for a full-size printer for larger image sizes. The best part is, they all instantly print your favorite hi-res photos on your phone, no wired connection necessary.
When choosing the right printer for you, there are a few essential things to think about. First of all, make sure the one you choose is compatible with your current iPhone. Some older models might not have the same functionality. Then, of course, consider your desired photo size. Some printers are only able to print wallet-sized images, while others can manage more standard sizes like 4 by 6 inches or 8 by 10 inches. There are even printers that can print directly off your social media networks if your favorites aren't stored on your camera roll.
Sounds amazing, right? Here, find a list of the best iPhone printers you can buy. They range in sizes and prices, but remember: If you're shopping on a tight budget, you might need to purchase additional photo paper or ink.