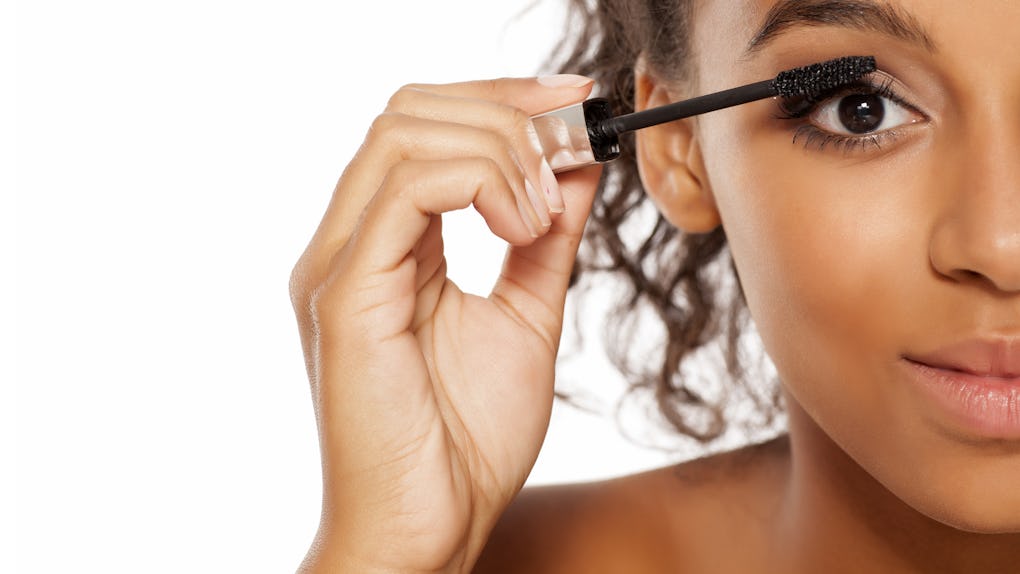 vladimirfloyd/fotolia
The 3 Best Hypoallergenic Mascaras
When you have sensitive eyes, doing your makeup can make you weep worse than a viewing of The Notebook. The redness. The itching. The tears. Mascaras, especially, are the worst perpetrators of eye irritation, since the pigment sits so close to your iris. And if you get a formula that runs or flakes off into your eyes, then you're almost guaranteed redness and itching. The solution? Invest in one of the best hypoallergenic mascaras on the market.
Hypoallergenic mascaras give you all the same benefits of a regular mascara. They lengthen, add volume, and deepen the pigment of your lashes in just one swipe. But instead of harsh ingredients that make your eyes water, these formulas are jam-packed with better-for-you ingredients like antioxidants and conditioning extracts that help your lashes look their best without hurting your eyes. They also use more natural ingredients for pigment, like plant-based dyes. The only downside? They tend to be a little limited in the shade department. Since artificial dyes can be irritating, most of these bottles come in blacks and browns, making them perfect for everyday wear.
It's time to say goodbye to itchy, irritated eyes. Ahead, find the best hypoallergenic mascaras on the market.
1. The Overall Best Hypoallergenic Mascara
When it comes to hypoallergenic mascaras, this one from VMV Hypoallergenics — an amazing, but seriously underrated brand that makes products specifically suited for allergy-sufferers and sensitive skin — checks all the boxes. It's a tubing mascara, which means it creates tiny tubes that coat each individual lash and slide off easily with warm water, so you won't have to tug and scrub to remove it. The smear-proof, non-clumping formula uses mineral pigments instead of harsh dyes, which means no itchy or watery eyes, and its thick applicator brush guarantees voluminous (but defined!) lashes every time. This mascara was specially formulated to prevent contact with your underlying skin, which lessens the chance of unwanted reactions even further — plus, it eliminates the possibility of "raccoon eyes" once and for all. If you're into hypoallergenic makeup, VMV is about to become your new best friend.
2. Another Great Option — And It's Offered In Three Colors
Another great (and more affordable) choice is Beautify Beauties' Easy On The Eyes Sensitive Mascara. What you won't get? Flaking or smudging. What you will get? Healthy, conditioned lashes in the long run, thanks to its nourishing formula made of natural waxes and clays. Unlike other hypoallergenic mascaras, this one has a pretty decent shade range. Aside from black and brown, it also comes in navy, which can add some serious dimension to your eye makeup. Reviewers say that this isn't a mascara for someone who's looking for dramatic volume; instead, if you're searching for a clump-proof formula for everyday wear, it'll be perfect.
3. This One Comes With A Tiny Mirror, Which Makes It Perfect For On-The-Go Application
Anyone who consistently finds themselves doing their makeup on-the-go will love this version from Ecco Bella. Each tube comes loaded with a teeny built-in mirror, making application convenient and simple. In addition to that handy perk, this formula is vegan, gluten-free, fragrance-free, and paraben-free, which means it checks all the boxes for folks with sensitive eyes. It comes in two shades and is made with flower cutins, which is the delicate coating that protects flowers. But instead of protecting a flower petal, the cutins in this mascara help protect your eyes. But those two are pretty much the same thing, right?
Bustle may receive a portion of sales from products purchased from this article, which was created independently from Bustle's editorial and sales departments.