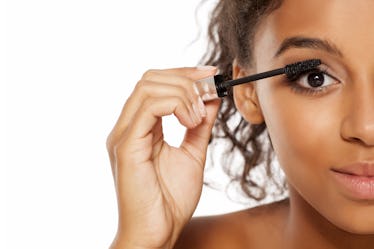 These Hypoallergenic Mascaras Are Essential For Anyone With Sensitive Eyes
When you have sensitive eyes, doing your makeup can make you weep worse than a viewing of The Notebook. The redness. The itching. The tears. Mascaras, especially, are the worst perpetrators of eye irritation, since the pigment sits so close to your iris. And if you get a formula that runs or flakes off into your eyes, then you're almost guaranteed redness and itching. The solution? Invest in one of the best hypoallergenic mascaras on the market.
Hypoallergenic mascaras give you all the same benefits of a regular mascara. They lengthen, add volume, and deepen the pigment of your lashes in just one swipe. But instead of harsh ingredients that make your eyes water, these formulas are jam-packed with better-for-you ingredients like antioxidants and conditioning extracts that help your lashes look their best without hurting your eyes. They also use more natural ingredients for pigment, like plant-based dyes. The only downside? They tend to be a little limited in the shade department. Since artificial dyes can be irritating, most of these bottles come in blacks and browns, making them perfect for everyday wear.
It's time to say goodbye to itchy, irritated eyes. Ahead, find the best hypoallergenic mascaras on the market.