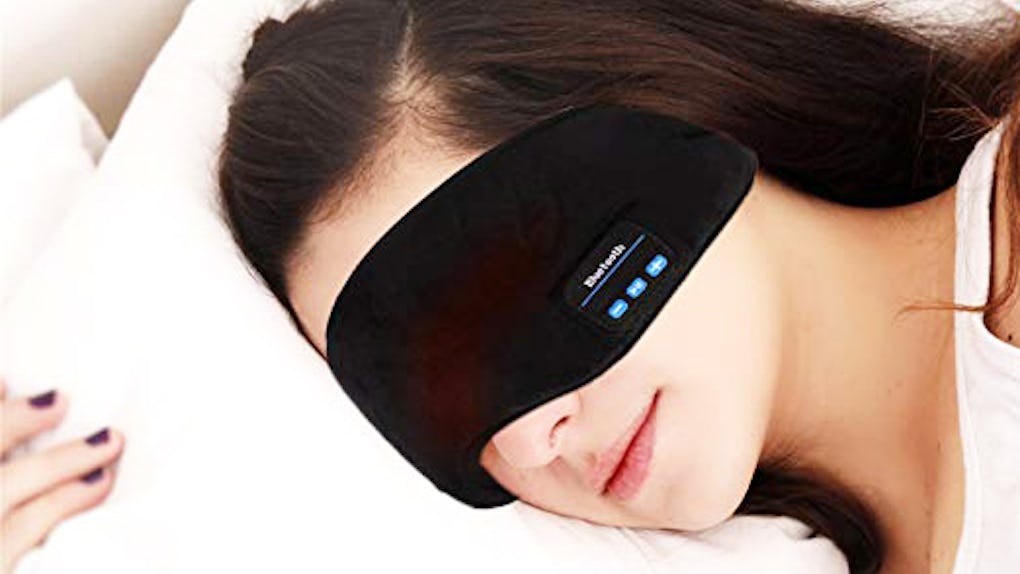 Amazon
The 3 Best Headphones For Sleeping
If you want to listen to soothing sounds until you nod off, you'll need the best headphones for sleeping. These must-have accessories are designed to stay comfortably and securely on your head all night long. The special headphones come in a variety of different styles, all boasting various useful features, to help you enter sleep mode. (Naturally, they're great for travel, too.)
Types Of Sleeping Headphones
Headband or sleeping mask headphones that wrap around your head.
Compact earbuds designed for sleep.
Over-the-ear headphones or ear hooks that stay put.
When you're choosing the best headphones for sleeping, your comfort and intended use matter. Some headphones for sleeping are wireless and Bluetooth enabled to sync to your smartphone, while others come pre-loaded with playable ambient sounds. Definitely check to make sure the pair you choose is compatible with whatever smartphone or tablet you'll be using (if any). It should go without saying that headphones do vary in terms of specs and quality.
To make your hunt for the best sleeping headphones even easier, here's a quick roundup of quality options. They're all available on Amazon and, regardless of your go-to relaxing sounds, sure to help you get that full night of rest you've been dreaming of.
1. The Best Headphones for Sleeping, All Things Considered
You're guaranteed to catch up on your beauty sleep with these Joseche headphones. They're basically a comfy sleeping mask with built-in Bluetooth speakers, giving you the best of both worlds. The eye mask — with an elastic band and an adjustable velcro strap — completely blocks out light, and the thin, removable speakers allow up to nine hours of playtime. Fully compatible with most iOS- and Android-based smartphones and tablets, they're lightweight, washable, and perfect for travel.
What fans say: "Wow, if you struggle with insomnia, you must order this! Just play a guided sleep meditation or classical music on your phone, pair it with this device and voila! You are off to a great night's sleep. Cant say enough about this."
2. Also Great: Headband-Style Sleeping Headphones
Available at a slightly cheaper price point, these sleep headphones from CozyPhones provide similar travel-ready benefits (including a bonus carrying bag). Though they lack the eye mask component you'd find in the Joseche pair, above, they've still got a comfortable band style that drapes over the ears. The band is made from breathable, lightweight lycra, and the speakers themselves feature noise-isolation and a tangle-proof braided cable. What's more, you can easily sync these headphones with any smart device.
What fans say: "I personally find these superior to the other similar and often more expensive sleep headphones out on the market. I used these CozyPhones mostly at night in bed while listening to my audio books. I love the cooler non slip material that remains firmly in place."
3. A Splurge-Worthy Pair of Headphones For Sleeping
If you're serious about getting some quality sleep — and willing to splurge — the Bose Noise-Masking Sleepbuds are a great option, as they aren't your average sleep headphones. Pre-loaded with 10 soothing ambient sounds, from rain to ocean waves, they work in tandem with the Bose Sleep app for a truly customizable experience. The compact, soft in-ear buds stay put, even if you toss and turn. And to ensure the best fit, they come with three different sized ear tips. Here's the best part: The rechargeable earbuds, which include their own charging case, provide up to 16 hours of sound with each charge.
What fans say: "I was really hesitant to spend this much money on these ear buds, but after struggling to sleep through my husbands snoring for years, I was getting desperate for anything that would help me get to sleep. These were worth every penny I spent on them. I haven't slept so well in the same bed as my husband since we moved in together."
Elite Daily may receive a portion of sales from products purchased from this article, which was created independently from Elite Daily's editorial and sales departments.