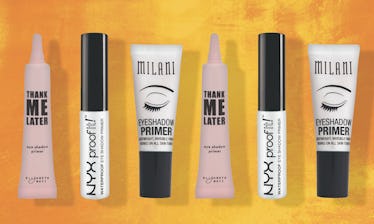 The One Step You Shouldn't Be Skipping For Long-Lasting Eye Makeup
Elite Daily/Amazon
Though you can use waterproof eyeliner and mascara to ensure long-lasting eye makeup, eyeshadow is a different story. It seems to be the first thing to slide off your face, which can seriously mess with that perfect smoky eye you spent 20 minutes carefully applying. But as long as you keep one of the best eyeshadow primers in your kit, you'll never have to worry about faded eye makeup again.
Keep in mind, not all eyeshadow primers are created equal. While all of them will help your eye makeup go on smoothly and protect against creasing, if you have oily eyelids (or plan on doing any sort of physical activity that might induce sweating), make sure to buy an eyeshadow primer that's waterproof.
To use eyeshadow primer, all you need to do is apply a dab of product (no larger than a pea-size amount) onto your eyelids. Use your fingertip to gently and evenly blend the primer, and don't forget to let it fully dry (about one minute) before applying your eye makeup.
Whether you're new to the world of makeup primers or they've been your secret staying-power weapon for years, here are three of the best eyeshadow primers to add to your must-try list.