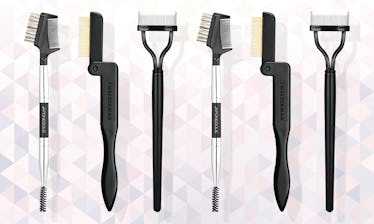 These Eyelash Combs Are The Key To Clump-Free, Wispy Lashes
Elite Daily/Amazon
You already know what a good lash curler can do, but book-ending your eye-makeup routine with a lash comb after you've applied mascara will help give you even more clump-free, fanned-out lashes. The best eyelash combs have metal teeth that help separate lashes and remove any mascara buildup, though a version with plastic teeth (or tines) will do just as well if you have metal allergies or prefer something more gentle. Given that lashes come in all sizes, the shape of the comb, as well as the length and spacing of the tines, will help determine which tool is best for you.
Lash combs with a traditional straight, blunt edge and closely spaced tines help get to the root of lashes and work best if your lashes are short or sparse. Though metal teeth will cut through mascara clumps better, they're also much sharper. If you have short lashes and are weary of having spikes so close to your eyes, a plastic comb with narrow teeth is a great alternative, though it may not be as precise.
Curved lash combs with longer tines that are spaced a bit further apart are often better for grooming long or thick lashes, as they minimize the chances of pulling out hairs and can get into the tricky inner corners in one pass. These combs are great for keeping false lashes neat, as well.
Whichever one you decide on, if you can find one that comes with a protective cap, it will not only help prevent the tines from getting bent, but can also serve as a safety measure so your fingers can avoid accidental pricks.
Below, you'll find a list of the best eyelash combs on Amazon — all for under $11!
We only recommend products we love and that we think you will, too. We may receive a portion of sales from products purchased from this article, which was written by our Commerce team.