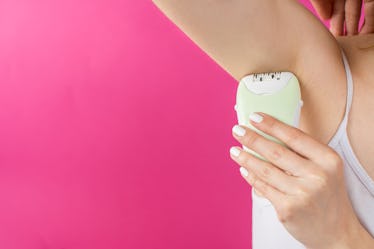 3 Epilators That Can Remove Unwanted Hair From Your Underarms
fotolia/creativefamily
There's no need to wax poetic: If you've ever used an electric epilator to remove hair at home, you know that this method isn't for the faint-of-heart. But for people who can't — or choose not to — shave, wax, or remove unwanted hair with creams or lasers, epilation is an effective and long-lasting alternative. When it comes to sensitive areas like underarms, the best epilators should, ideally, make the job as painless as possible. So what should you look for when deciding which is the best epilator for your underarms?
Before you assume that an epilator is just a bunch of tweezers rotating on a roller, there are a few things to consider. While longer hair is easier for the tweezers on your epilator to grab, it's less painful to remove shorter hairs. Look for an epilator that can remove hair as short as 0.5 millimeter for minimal discomfort and less-noticeable regrowth between sessions.
Consider if you want to use your epilator dry or with water. Some people prefer to use their epilator in the shower or bath when skin is softer and follicles are more relaxed. Certain epilators have pivoting heads and come with other accessories. These bonus items come with a higher price tag, but depending on how sensitive your underarms are, may be worth it.
A quick scan of epilators on Amazon will turn back dozens of results, so to guide you in your search, here are the three best epilators for underarms.