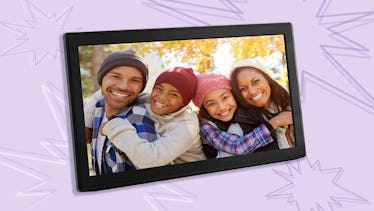 This Best-Selling Digital Picture Frame Is The Perfect Holiday Gift — Plus 2 Others On Amazon
Amazon/Elite Daily
With one of the best digital picture frames, you have the flexibility to display your favorite photos from your smartphone in a frame — without printing them out. These space-saving gadgets even come with some pretty cool features like video playback, slideshows with background music, built-in cloud storage, motion sensors, and more.
When shopping for a digital frame, there are a couple of things to consider, most importantly the frame's screen size and resolution. The best digital picture frames are 7 to 9 inches or larger. With these measurements, you'll get the standard 4-by-6 or 5-by-7 photo sizes displayed. The same goes for resolution. The higher, the better. An excellent ballpark to shoot for is 800 pixels by 600 pixels or greater. (So you know: Larger frames should have higher resolutions.)
Storage and memory options are also important when choosing digital frames. Some frames include built-in memory so you don't have to rely on a memory card, while others use memory card slots. Definitely check to make sure the memory card format on the frame matches your digital camera. Even better, digital frames also connect to your smart devices via Wi-Fi, Bluetooth, and USB. Choose a frame that best suits your connectivity needs and, of course, your decor.
If you need help deciding, here's my list of the best digital picture frames.
This article was originally published on