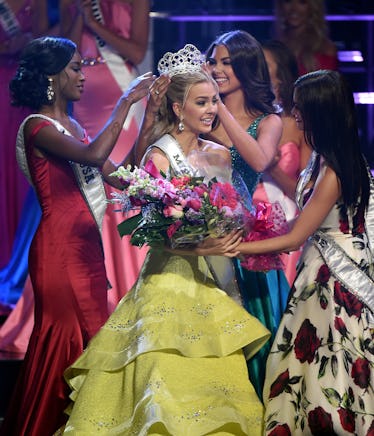 The Winner Of The Miss USA Pageant Will Receive An Amazing Prize & It's Not Just A Tiara
Ethan Miller/Getty Images Entertainment/Getty Images
Winning the Miss USA pageant is no easy task. In fact, there's a lot of practice, poise, and hard work that goes into competing in pageants. So, it's only fitting that the grand prize for Miss USA is more than a simple tiara, right? Exactly, which is why the actual prize for the winner is way more than most people expect. Honestly, the 2018 Miss USA prize is pretty extravagant, and affords the winner a boat load of exciting opportunities.
So, what's in store for the lucky lady? Well, if previous years are anything to go by, this year's winner will likely enjoy a swanky, all expenses paid apartment in New York City. At least, that's what the 2017 Miss USA winner, Kára McCullough, was said to have received.
Do you even know how expensive it is to live in New York City? Most native New Yorkers can't even afford to live there!
According to Bustle, McCullough was also awarded a special wardrobe for public appearances. It's probably safe to say that this year's winner will get the same treatment!
Seriously, though, who doesn't want a full-on wardrobe that's tailor-made just for them? So jealous! But at the same time, there is a lot of pressure on Miss USA to be at her best at all times, so a new wardrobe makes total sense.
That can't possibly be all, can it? Nope!
As a matter of fact, the winner of the Miss USA competition also gets the opportunity to travel. Since the winner represents Miss USA as an entity, she has the chance to travel all over the country and do great work as a goodwill ambassador. I guess you could say that the Miss USA folks like to put their reps to work, which is actually great since the winners are usually seen as role models for younger generations.
In addition to all of that, the winner of Miss USA on also gets the once in a lifetime chance to represent the USA in the Miss Universe competition, which comes with its own luxurious prize package. The winner of Miss Universe typically takes home a ridiculous amount of money and is offered a luxury apartment in New York City with all their expenses paid. Oh, and then there's that coveted tiara.
Speaking of tiaras, the winner of Miss USA definitely gets one! And it's super shiny and pretty, too. So, of course, there's that to add to their extensive prize package.
Whew! Reading all of that kind of makes you want to ditch regular life for pageant life, doesn't it?
More than any of that though, the winner of the pageant has the opportunity to make real change in the world. As previously mentioned, Miss USA is usually considered a role model and she gets the chance to travel on behalf of the Miss USA organization. Combined, those two points make her a highly respected figure among young women and girls. And there's never a better opportunity to effect positive change than with that kind of power and visibility. So awesome!
The 2018 Miss USA competition will be held on Monday, May 21, at George's Pond at Hirsch Coliseum in Shreveport-Bossier, Louisiana. The pageant will air live on FOX at 8 p.m. ET, so don't miss it.
Fun fact: The Miss USA competition was established in 1952 and has been held annually ever since. Additionally, this year's pageant is a landmark one! It's the 20th anniversary of the competition's first appearance in Shreveport-Bossier, Louisiana. Given the special occasion, this year's pageant may be extra special. Be sure to tune in.