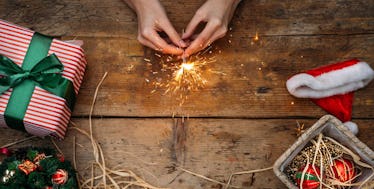 Here's The Holiday Gift Your Partner Secretly Wants, Based On Their Zodiac Sign
Since we're in the midst of Hanukkah, and Christmas and Kwanzaa are approaching, you're probably thinking about what to get your partner for the holidays if you're in a relationship. If you're a tad stuck on brainstorming gifts they'll enjoy, why not tailor their gift to their zodiac signs? These 2018 holiday gifts for your partner, based on their zodiac sign can be personalized, but the ideas all come from the characteristics that make up each sign.
If you're really unsure of what your partner may want for the holidays, it may be because they have a lot of what they already need or want. So have a little bit of fun with brainstorming but thinking beyond their typical hobbies you already know about, and think about who they are as a person. What characteristics describe them? This could come from their sun sign, which describes who they are, fundamentally, as a person. By choosing their gift based on their zodiac sign, you may be going for a less traditional route, but hey, it might surprise your partner a little extra. Plus, they'll probably appreciate the further thought you put into their gift. So read on for your partner's zodiac sign and what you should get them based off that.
Sagittarius (Nov. 22–Dec. 21)
Since Sagittarius is so big on adventure, go ahead and give your Sag bae the tools to make that adventure happen. These Nike sneakers are made for running, but will also work just fine getting your partner wherever they need to go.
Capricorn (Dec. 22–Jan. 19)
Because Capricorn is a learner for life, gift your partner one month, recurring, or a full year of The Strand's book subscription box, Book Hookup. You can choose from art & photography, feminist literature, fiction, children's, mystery & suspense, political nonfiction, sci-fi & fantasy, timeless favorites, and young adult. Prices range from $37.50 to $200.
Aquarius (Jan. 20–Feb.18)
Since Aquarius is so social and often known as the life of the party, they probably do host their own get-togethers every once in a while. Make sure your Aquarius partner has the key to make their party a success: speakers for music. This portable, Bluetooth-enabled speaker can be moved around if need be, and can play music from any Bluetooth-operating device.
Pisces (Feb. 19–March 20)
Pisces is often escaping reality through their own imagination. Help them harness that escapism in a creative manner, by gifting them a notebook they can write ideas, plan things out, and maybe even keep track of their gifts for you. This option has more than 120 pages, is ink-proof, and includes a table of contents as well.
Aries (March 21–April 19)
Aries likes braving anything that can show off their courageousness and spontaneity, so surprise them with tickets to go indoor skydiving to really get their adrenaline going. Options include two, three, four, or five flights, with the choice to also include virtual reality as well.
Taurus (April 20–May 20)
Taurus is a big foodie (which you are probably well aware of by now), so think of gifting your partner a fun cooking class at Sur La Table, which you can enjoy together. The store has a variety of offerings, including holiday beef Wellington supper, holiday cookie workshop, New Year's Eve date night, cast iron desserts, and more.
Gemini (May 21–June 20)
Gemini loves solving mysteries and puzzles, so consider attending an escape room together. You'll have fun seeing your partner guess at all of the clues, and you'll be even happier when you (hopefully) succeed in escaping due to your teamwork.
Cancers (June 21–July 22)
Cancers often like to lounge around the house with their loved ones. Since they want to be home often, why not make it comfortable? Gift your favorite homebody a soft blanket so they're cozy in the place they love the most.
Leos (July 23–Aug. 22)
Leos are known for their bold and loud personalities, so gift them this beautiful attention-grabbing necklace from Ralph Lauren. It's a statement on its own, or easily layered with other pieces. Plus, it will go with a variety of jewelry styles, no matter your partner's preference.
Virgos (Aug. 23–Sept. 22)
Virgos are detailed and practical, so getting them essentially a robot assistant will certainly help their day run smoother. The Amazon Echo is a speaker, but includes helpful functionalities like knowing the weather, setting a timer, and even placing Amazon orders.
Libras (Sept. 23–Oct. 22)
Libras are known for being into arts, so gift your partner a movie subscription program this holiday season. Opt for Sinemia, which allows you to see three movies per month with no blackout movies or theaters.
Scorpios (Oct. 23–Nov. 21)
While Scorpios get a (completely unfair!) bad reputation, there's no denying the allure of this sign. Get your Scorpio SO a scent to match their mysterious persona, like this option from Jo Malone that smells of cliffs and sage.
As a Scorpio myself, I can attest to the fact that I'd love to receive the above gift. Therefore, zodiacs are real, this fact is undeniable, so go get your SO the gift for their sign for this holiday season.