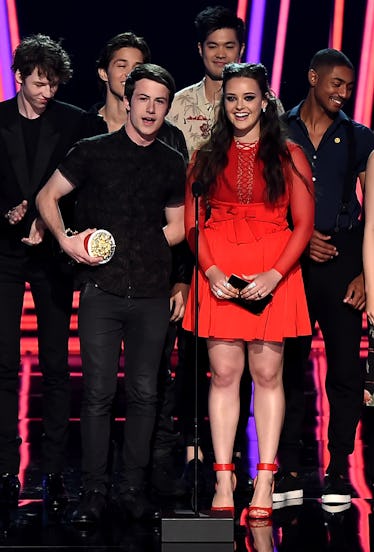 The '13 Reasons Why' Season 2 Soundtrack Is Here & It Looks Amazing
Kevin Winter/Getty Images Entertainment/Getty Images
It's official — 13 Reasons Why Season 2 is returning to Netflix on May 18, which, depending on what time it drops, should give me a whole day to binge-watch the entire thing before it's time to switch over to 24/7 coverage of the royal wedding. What an amazing weekend THAT is shaping up to be! But in the meantime, the 13 Reason Why soundtrack is here, you guys! And it's so good I can't stop listening.
We first found out about the big release on May 10 via a tweet from none other than Selena Gomez, the show's executive producer. The 25-year-old pop star hit up Twitter on May 1 to share the amazing news that her new song, "Back to You" would release as part of the 13 Reasons Why Season 2 soundtrack. "#BackToYou. Out May 10th, part of the @13ReasonsWhy S2 soundtrack," she wrote. "I'm so excited for you guys to hear it."
Me too, Selena. Me too. I mean, remember the amazing acoustic version of Gomez's hit tune "Kill Em With Kindness" she contributed to the soundtrack for Season 1? It was seriously so beautiful. And so was her haunting cover of Yaz's '80s ballad "Only You."
Not gonna lie, I've probably listened to this remake over 100 times. And guess what, you guys? The soundtrack for Season 2 is just as amazing! Remember the trailer Netflix treated fans to when they announced the May 18 release date? The one that featured various cast members basically frozen in place while Polaroid pictures fly all around them?
And you know that song playing in the background? Well, it's another remake. This time, it's Depeche Mode's "I Feel You," and sadly, it didn't make the Season 2 soundtrack cut. It's kind of surprising, given that the lyrics are basically the perfect punctuation for the way Clay feels about Hannah.
"I feel you. Your sun it shines. I feel you. Within my mind."
What did make the cut, though, was Gomez's song "Back To You," which tops the soundtrack list. As for the rest of the soundtrack, here's the full look:
Selena Gomez - "Back To You"
Billie Eilish & Khalid - "lovely"
OneRepublic - "Start Again" (feat. Logic)
YUNGBLUD - "Falling Skies" (feat. Charlotte Lawrence)
Lord Huron - "The Night We Met" (feat. Phoebe Bridgers)
Parade of Lights - "Tangled Up"
Colouring - "Time"
Leon Else - "My Kind Of Love"
HAERTS - "Your Love"
New Order - "Love Vigilantes"
Echo & The Bunnymen - "The Killing Moon"
Human Touch - "Promise Not To Fall"
Years & Years - "Sanctify"
YUNGBLUD - "Tin Pan Boy"
Orchestral Manoeuvres In the Dark - "Souvenir"
Tears for Fears - "Watch Me Bleed"
Siouxsie & The Banshees - "Cities In Dust"
Gus Dapperton - "Of Lacking Spectacle"
Telekinesis - "Falling (In Dreams)"
The Alarm - "Strength"
A few of the songs on the soundtrack won't be available until the Season 2 release on May 18. How the music will relate to the plot is something we will have to wait to find out. But in the meantime, at least we've already gotten a bunch of clues about the Season 2 storyline to keep us busy. For starters, Hannah Baker is definitely back. In an interview with Entertainment Weekly, showrunner Brian Yorkey said Season 2 will take place a number of months after we left off in Season 1, and questions about Hannah's suicide are still looming large.
"I think one of the things that is still hanging out there is this question of, is someone responsible for Hannah's death?" Yorkey said. "Is the school responsible? Who is responsible, if anyone is?"
Yorkey also revealed that Jessica's story isn't done yet, either, and that a different type of analog technology will be taking center stage for the kids at Liberty High this time around. "The cassette tapes aren't at the center of it," he explained. "Those two boxes of tapes are still hanging around and matter to people — but there will be a new piece of technology for 13-year-olds to Google and try to understand what it was."
So what are we talking about here — VHS? Betamax? And more importantly, does this mean we'll only get to see Hannah via grainy old footage played on someone's great grandmom's old VCR? I seriously hope that doesn't happen.
I guess we'll find out on May 18, hopefully at the very first stroke of midnight. Until then, at least I've got the soundtrack on repeat.