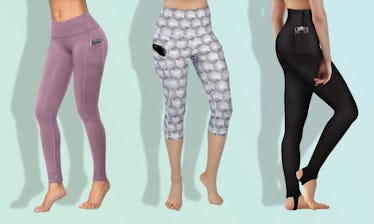 Amazon Has TONS Of Leggings With Pockets Big Enough For A Smartphone — & They're Game-Changers
Amazon / Bustle
Leggings have become so much more than a workout pant. These days, you can just as easily wear the athleisure look to brunch as you can to the yoga studio. The best leggings offer style and utility, and the best leggings with pockets take that utility a step further by providing easy access to all your everyday essentials, smartphone included. Plus, with pocketed jeggings and tailored work leggings in the mix, there's even more reason to wear these comfortable pants every chance you get.
To find the best leggings with pockets for you, it's helpful to think about the placement of the pockets themselves. Do you want dual side pockets to conveniently access your phone, keys, and credit cards, or do you prefer a back zippered pocket to keep your gear secure no matter how rough the terrain you're treading over? There are even some legging below with hidden waistband pockets for storing all kinds of necessities sleekly out of sight, from protein bars to chapstick.
If you're looking for a great pair of travel leggings, you'll want a pair that provides compression to help aid circulation, and if you're seeking warm leggings the material should be thermal, like fleece or neoprene. Of course, if you're looking for a great pair of workout pants, those are made with sweat-wicking synthetic fabrics like polyester, spandex, or nylon will help keep you dry. For everyday leggings, a ponte knit is typically thick enough to pass the squat test, and thanks to its use of rayon, polyester and spandex, and will hold its shape over time.
With all that in mind, it's time to start shopping. All of the leggings here are highly rated on Amazon.