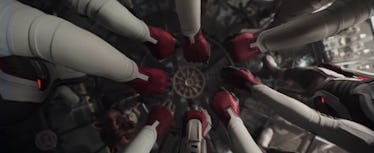 The 12 Biggest Marvel Easter Eggs In 'Avengers: Endgame' That You Definitely Missed
Marvel
Avengers: Endgame not just a sequel to Infinity War. It is the 22nd film in the franchise, which, in broadcast TV metrics, makes it the season finale episode. And boy, what a finale. It brings the season to a close with a hail of callbacks and references to the earlier films stretching all the way back to 2008's Iron Man and The Incredible Hulk. One might even say this is less a film than a series of fan-service easter eggs strung together in a remarkable narrative order. The Marvel easter eggs in Avengers: Endgame come so thick and fast, it's impossible to get them all in one sitting. Warning: Spoilers for Avengers: Endgame follow.
If one were to sit down and try and count all the references made in Endgame, the answer would most likely be in the hundreds. There are moments when there are so many callbacks on top of callbacks, it's like the film has created a virtual easter egg nesting doll. The best way to list them is to take the highlights from each of the standalone film franchises, so that's what I've done.
Here now are the 12 most significant franchise easter eggs, and how the film called back to them.