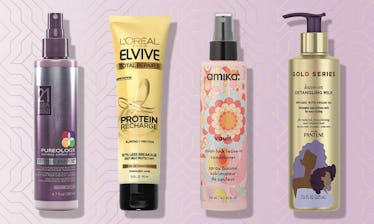 The 10 Best Leave-In Conditioners For Every Hair Type & Budget
Elite Daily/Amazon
To take a cue from the Backstreet Boys, I don't care who you are, where you're from, or what you did to your hair — you can probably benefit from a leave-in conditioner. In addition to melting through knots, these multitasking products do pretty much every good thing for your hair: repair damage, smooth frizz, enhance shine, provide heat protection, soften rough ends, and, almost always, make your hair smell great. That said, you'll need to choose the best leave-in conditioner for you in order to reap all those benefits.
Here are some general guidelines: If you have fine or thin hair, opt for a lightweight spray over a cream; the latter might weigh your hair down, which is the opposite of what you want. People with thick or curly hair can handle richer formulas — the best are spiked with nourishing oils, like argan, and help give your curls some volume and definition. Those with color-treated hair are best served by a leave-in conditioner that shields the hair cuticle from color-degrading aggressors (heat, sun, time), while repairing the damage your bleach or dye may have wrought on your hair. And if your hair is very damaged, look for a formula loaded with proteins and other strengthening ingredients.
Or you can skip the research, and opt for whichever of these 10 leave-in conditioners best suits your hair type and budget from the list ahead.