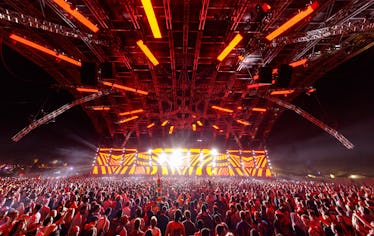 Teen Vogue's Report About Sexual Harassment At Coachella Is So Upsetting
Christopher Polk/Getty Images Entertainment/Getty Images
I've admittedly never been to Coachella (a true feat as a native Californian) but, as far as I'm concerned, I feel like I've been there. Why? Well, because every April my social media feeds get flooded by pictures of shirtless dudes and girls in trendy two-piece outfits having the ~time of their lives~ eating watermelons and dancing to their favorite songs. But a new report by TeenVogue.com claims that the festival might have a dark side that isn't being captured in the cute Instagram pics flooding my feed. No, instead, TeenVogue.com's report about claims of sexual harassment at Coachella suggests that, despite the happy pictures, female festival goers are consistently subjected to an endless stream of sexual assault. Elite Daily has reached out to Coachella for comment on the TeenVogue.com report, but did not hear back at the time of publication.
The piece was reported by TeenVogue.com's Features Editor Vera Papisova who claims that throughout the 10 hours she spent at Coachella, she was groped an alarming 22 times. And that experience isn't unique to Papisova. She spoke to 54 women at the festival and all of them claimed that they experienced a form of sexual harassment or assault while at Coachella.
One telling experience was shared with Papisova by a 16-year-old girl named Reagan. "Just the way people touch me when you're walking through a crowd. Why are you touching me there? We're trying to have fun and fit in here," she told Papisova. "It's scary, and you can't trust the random people around you to help you. And with those bigger men, it's just harder and it's scarier to say something to them because they might get angry and violent. Like if you're not nice, they might hurt you."
Papisova relayed a similar story — she was called a "heinous bitch" by a man whom she refused to kiss in the VIP section.