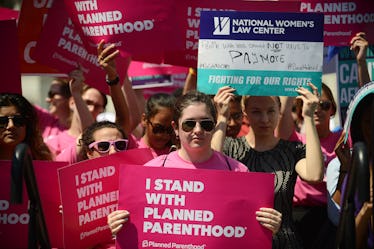 Teen Pregnancy Prevention Grants Got Saved In Court, But The Trump Admin Still Has A Scary Impact
Astrid Riecken/Getty Images News/Getty Images
As far as federal courts are concerned, the Trump administration is not having a successful week. Teen pregnancy prevention grants got saved from the Trump administration in court, according to published reports. Still, the administration has the potential to do very real damage in the future.
Back in July 2017, the U.S. Department of Health and Human Services (HHS) decided to end grant funding for 84 sexual health groups that work to prevent teen pregnancy across the country that was supposed to last up through 2020. Planned Parenthood sued the Trump-Pence administration in February over its decision to terminate the grants two years early.
On Tuesday, April 24, U.S. District Court Judge Thomas Rice, of Spokane, Washington, issued a permanent injunction, which means those teen pregnancy prevention programs will keep getting their funding, saying that the Trump administration's effort to abruptly end those federal grants issued to Planned Parenthood would have caused harm.
"The Court does not seek to 'handcuff policymakers,' but merely finds that Plaintiffs have established that an agency must follow its own regulations in terminating a program," Rice wrote, per Reuters. The premise for the injunction relied on the fact that, according to Rice, the HHS had failed to explain why it terminated the five-year grants two years early. Elite Daily reached out to the HHS for a response to the judge's decision, but did not hear back.
The Planned Parenthood program, among others in dispute, is known as the Teen Pregnancy Prevention Program (TPPP) and is aimed at reducing teen pregnancy in 31 states, with a priority on populations with high teen pregnancy rates. Since 2010, the TPPP has provided young people with education about sexual health, communication skills, and relationships so that they have the tools to make healthy, informed decisions, according to a Planned Parenthood news release. The TPPP funds programs that are based on scientific evidence, and have been proven effective in helping to reduce unintended teen pregnancy.
"All young people, regardless of race, gender identity, sexual orientation, income or zip code, deserve the space to get answers to their questions about sex and gain skills to build healthy relationships," said Dawn Laguens, vice president of Planned Parenthood Federation of America, in a statement. "Planned Parenthood applauds the court's decision and is proud to continue to serve Americans in the TPPP, along with our partners."
Attorney Rick Eichstaedt, who represents the Center for Justice, which filed the suit in February on behalf of Planned Parenthood of Greater Washington and North Idaho, said the judge's decision was a big deal for the cause. "This has real-world implications," Eichstaedt told The Spokesman-Review. "The teen pregnancy prevention program will be allowed to continue." A federal judge in D.C. also ruled in favor of other grantees last week.
As far as reproductive rights activists are concerned, this is temporary good news. The Planned Parenthood affiliates in their lawsuit, per Reuters, said the HHS decision to cut the grants was part of a "broader political agenda against sexual and reproductive health and evidence-based and science-based programs." Vice President Mike Pence, a former Indiana governor and staunch opponent of abortion, has pushed to defund Planned Parenthood.
On Monday, April 23, The New York Times reported that the Trump administration issued new rules for funding programs to prevent teenage pregnancy. Those rules reportedly favor abstinence-based prevention and lessened the importance of effectiveness as a determining factor for funding eligibility.
Andrea Kane, vice president of policy and strategic partnerships for Power to Decide, a national group working to reduce unplanned pregnancies, told the Times that abstinence-based sexual education doesn't provided pertinent information to sexually active young people.
"What's noticeably absent in those things you must talk about is that if the young person continues having sex, here is the information you must have about contraception and sexually transmitted diseases," Kane told the Times. "They talk about skills to avoid sex and return to not having sex. It doesn't really leave any opening for those young people who continue having sex and how we help them prepare for their futures."
More than 90 percent of parents support sex education in both middle and high school, according to PLOS ONE, a nonprofit that publishes reports of original research from the natural sciences, medical research, engineering, as well as social sciences and humanities. And according to a Planned Parenthood poll, the vast majority of parents — including Democrats and Republicans — want sex education to include topics like birth control, healthy relationships, abstinence, and sexual orientation.
HHS Chief of Staff Valerie Huber has voiced just the opposite philosophy. In an op-ed published in The Hill in March 2017 (before she worked for the HHS), Huber wrote, "the healthiest message for youth is one that gives youth the skills and information to avoid the risks of teen sex, not merely reduce them."
Clearly, now is not the time for guards to be let down. The Trump administration has the power to continue to fight this — and to continue to suppress sexual health advocates and prop up a conservative agenda.