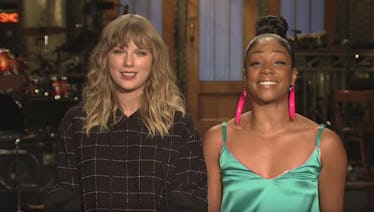 Taylor Swift Is Performing On 'SNL' & The Promo Has Us So, So Pumped
NBC/YouTube
Happy Reputation release week, guys! Taylor Swift has finally dropped her new album and she's headed to Saturday Night Live to impress 30 Rock and all of America with her musical stylings. Even this week's host, the hilarious Ms. Tiffany Haddish, can't keep her excitement together. In Taylor Swift's SNL promo, the performers come together for some super star power and we can barely contain ourselves. This is going to be good. Did you see Girls Trip? Tiffany Haddish can pretty much do no wrong and the comedian-turned-movie-star looks like she'll be a total pro when it comes to whatever the sketch comedy show throws her way.
Of course, Tiffany couldn't exclude herself from Taylor's album narrative and had to ask the question of all questions when it comes to T. Swift. "Listen, are any of those new songs about me?" she inquires in the just-released SNL promo. When Taylor breaks the news that no, they're not, Tiffany has an idea. "Well, can we pretend they are?" she asks. "Absolutely," responds Tay. Stars! They're just like us! We often pretend Taylor is referring to us through song, too, Tiffany.
"Hey! I made it on the album, y'all!" Tiffany exclaims. Aaand now we're even more ready for Saturday night. We might even stay home for this one. (OK, who are we kidding? We're usually on our couches by 9 PM.)
Tiffany Haddish is making history with her hosting gig — she's the first black female comedian to headline the long-running NBC program. We can't wait to see her in action and it's clear she can hold her own alongside Hollywood heavy-hitters and household names. She was the clear breakout star of Girls Trip, alongside greats like Queen Latifah, Jada Pinkett Smith, and Regina Hall. Tiffany has been in the comedy and stand-up game for years but her career only recently skyrocketed to new heights. Following her series regular role on the critically acclaimed The Carmichael Show, she landed major parts in movies like Keanu and the upcoming Night School. Her very own Showtime comedy special, Tiffany Haddish: She Ready! From the Hood to Hollywood, came out in August.
If you don't already know and love Tiffany, please watch her tell Jimmy Kimmel about that time she took Jada and Will Smith on a Groupon-paid Swamp Tour excursion. It's one of our favorite interviews of the year and you'll be on the floor by the end of it.
Tiffany might be an SNL newbie, but Taylor Swift is no stranger to Studio 8H. Following her first musical guest appearance in 2009, the singer returned to pull double duty as host and musical guest back later that year and absolutely crushed it. Tay is the type of celebrity who is down to make fun of herself — the Look What You Made Me Do video is basically one big jab at all of her former "identities" — so hopefully she'll bring her A-game and all-in-good-fun attitude for a sketch or two. Fingers crossed.
We don't have word on which tracks the pop sensation will be performing live over the weekend. Swift did a stirring rendition of her new ballad "New Year's Day" during Thursday's TGIT on ABC, so maybe she'll bless us with an encore. Taylor really stands out when she strips the music down to her voice, emotions, and a piano or guitar. Saturday Night Live is the place for unique and out-of-the-box musical showcases, so we have little doubt that she'll use the platform to her advantage. Maybe she'll actually make Tiff's dream come true and shout her out in one of her songs.
Whatever happens, we'll so be watching.