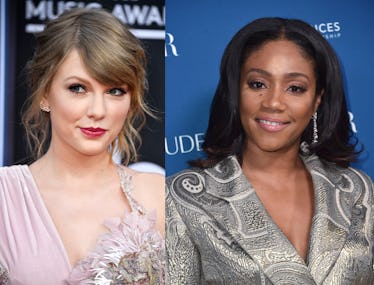 Taylor Swift Gave Tiffany Haddish The Most Surprising Piece Of Dating Advice
Getty Images
There are lots of unique perks that come along with being a celebrity. You get free things all the time, everybody kisses up to you, you get to be on the cover of magazines, you have a voice people actually want to listen to, and, of course, you get to rub shoulders with other celebrities. And part of rubbing shoulders with other celebs means getting advice from them. Sometimes very unexpercted advice. For example, Taylor Swift's dating advice for Tiffany Haddish is not what you'd expect from the pop star.
"You know what, I'm about to go on Instagram right now and put out an advertisement because I'm very single," Haddish, 38, told PEOPLE while announcing her collaboration with Lawry's Seasoned Salt. "I was talking to Taylor earlier — she said that's what I should do!" the comedian added.
For starters, let's just digest the fact that Haddish and Swift are apparently close enough to be dishing about their love lives. In fact, Haddish told PEOPLE that she texts Swift "every other week or so."
And then, of course, there's the advice she gave. Put an ad out on Instagram? Sounds pretty dang bold to me. But, hey, I'm totally here for it.
If you're interested in answering Haddish's upcoming Instagram ad for a lover, buckle up because she's got some pretty high standards.
First, she starts with the basics. "Credit score has to be over 700, no kids, have his own place," she told PEOPLE. "Basically don't be living with your momma and daddy unless you are providing for [them]."
Then, there's the more detailed list of characteristics she's after. "[He has to] have confidence in himself, accomplish any task he sets out to do. Have a mole on his left foot. Good hygiene, pretty teeth," she added to PEOPLE with a laugh. "He has to have a great smile and has to be willing to smile."
I'm going to go ahead and assume she was joking about the mole on his left foot thing but I've gotta say the rest of her requirements are pretty great. Someone who has a great smile and actually wants to smile? Sounds great to me. Someone who's confident? Sign me up! Someone who sets goals and accomplishes them? Hell yeah!
I'm with Swift. I really hope Haddish posts her requirements on Insta and all of the worthy dudes step forward.
But how did the two become friends in the first place? Well, in an appearance on The Ellen Show, Haddish admitted that it was Swift who approached her after meeting Haddish on the set of Saturday Night Live.
"Taylor was like, 'Tiffany, Oh my God, I like you, we gotta hang out!' I was like, 'Yes! We gotta hang out girl, let's hang out,'" she told Ellen DeGeneres on her show last year.
After telling Haddish she liked her, Swift invited her over to her house where the two shared a home cooked Southern meal and, well, now they text every couple weeks or so and give each other dating advice... so I think it's safe to say the dinner went well!