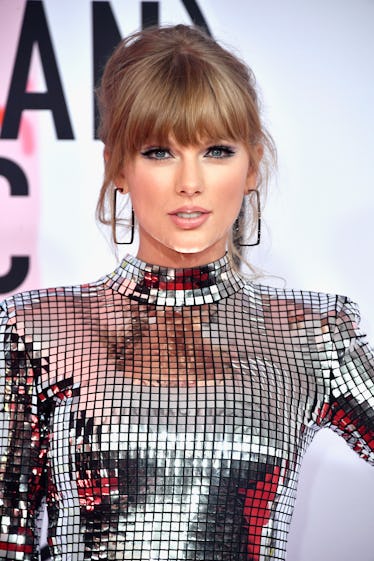 TBH, IDK If It Was Actually Taylor Swift On The AMAs Red Carpet Or A Super Stylish Space Robot
Frazer Harrison/Getty Images Entertainment/Getty Images
Hello, and welcome back to the world where Taylor Swift graces an awards show red carpet yet again. I am your host, Theresa, here to guide you along this journey to the future, which solely includes ogling over Taylor Swift's 2018 American Music Awards look. Let me tell you, I, for one, have never been more excited for a journey, mostly because we've been deprived of a Swift red carpet moment for a hot second.
If you thought we were all living in 2018, well, so did I. But we were both sorely mistaken, my friend. Judging from Swift's outfit, we've mysteriously been transported straight to the year 3000. According to the Jonas Brothers (OK, well, Busted first), not much has changed, but they live underwater. Oh, and apparently your great-, great-, great-granddaughter is doing — SOMEONE STOP ME. This isn't about the Jonas Brothers. This is about Taylor.
Swift strutted onto the red carpet in a mirrored, silver chrome Balmain minidress with long sleeves and a turtleneck neckline, matching thigh-high boots, and a killer beauty look, and I'm low-key not even sure if it was actually her or if this is a super convincing robot lookalike that'll take over the world as we know it when we're not looking (as if Swift herself hasn't done that already, but stay with me here).
I just gotta say, though, if all the robots that were about to take over the world looked as dope as Swift does, I wouldn't even be mad about it TBH.
Swift paired her dress and boots with metallic nails, several silver rings from Ofira Jewels and Lorraine Schwartz, and large rectangular sparkly earrings, also from Ofira Jewels. Her beauty look only complemented her overall mirrored silver look, with sleek grey shadow along her crease, extending above an eyeliner wing so sharp, it could probably kill you if you look at it too closely.
Even bigger a statement than Swift's outfit for tonight (if you can believe it) was a recent statement Swift made on her Instagram. Though the singer usually shies away from voicing her political opinion to the public, on Oct. 7, 2018, she took to the social media platform to change that "due to several events in [her] life and in the world in the past two years." In addition to emphasizing her belief in inclusivity and in the fight for human rights for all, she struck down the endorsement of any form of discrimination, racial, gender-based, sexual identity-based, or otherwise.
She also encouraged her followers to register to vote, as she voiced her support of congressional candidates Phil Bredesen (Senate) and Jim Cooper (House of Representatives) for the state of Tennessee. She expressed that she "cannot support Marsha Blackburn" and that Blackburn's "voting record in Congress appalls and terrifies" her. All I'll say is, it's incredibly refreshing to see Swift make such a public statement, especially considering the high-stakes, troubling political climate.
If you don't think Swift's reach and influence is undeniable, allow me to inform you that Kamari Guthrie, director of communications for vote.org, explained to BuzzFeed News, "We are up to 65,000 registrations in a single 24-hour period since T. Swift's post." Guthrie continued that the surge in new voter registrations the website experienced following Swift's post was "unprecedented." Catch all of us at the November 2018 elections, snatching up all your Senate and House seats.
For the 2018 American Music Awards, Swift naturally racked up a number of nominations, including Best Artist, Best Pop/Rock Female Artist, Best Pop/Rock Album, and Best Tour. I'm no psychic, but based on the property of robots I just made up which dictates that futuristic-looking robots win everything, I'd saw that Swift (or the robot that suspiciously looks just like her) will have a clean sweep.