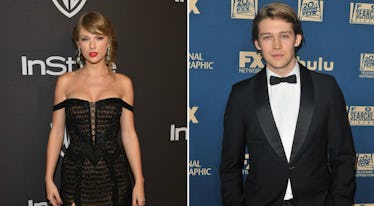 You Have To See Taylor Swift & Bae Joe Alwyn Hugging At The BAFTAs
Matt Winkelmeyer/Getty Images for InStyle/Jerod Harris/Getty Images
Taylor Swift is living her best life, and she's doing so on her own terms. Swift, who has dealt with more than her fair share of criticism when it comes to her dating life, has worked hard to keep her current relationship pretty low key. However, hard-core fans of Swift have uncovered plenty of info on Swift and her new(ish) bae, Joe Alwyn. Most recently, for example, fans were able to catch Taylor Swift and Joe Alwyn's BAFTAs PDA, which was seriously adorable.
While most of the world was fully entranced by the Grammy Awards on Sunday night, there was another big shindig that brought together plenty of notable celebs. The British Academy Film Awards, which is basically like the British Oscars, took place at around the same time and honored some pretty huge films from the past year. Among them was the smash hit The Favourite (an actual favorite of the night), on which Alwyn had a role. Sure, Swift could have attended the Grammy Awards, but the 10-time Grammy winner chose to support her boyfriend instead, and it's seriously so sweet. Swift is a hugely successful star, so her attendance at the Grammys would've been major. But the fact that she wanted to let the night be about her boyfriend speaks volumes.
Now, it's important to note that Swift herself didn't post about any PDA with Alwyn, but some fans who were at the event were able to snap some pics of the happy couple embracing, which you can check out for yourself here, and here as well.
Obviously the photos are all kinds of adorable. In the pics, Swift can be seen going in for a hug (and maybe even a kiss) with Alwyn. Their embrace seems warm, genuine, and much-needed. Swift and Alwyn have been together for anywhere between one to two years, according to Elle (it's unclear, as they've both been private about their relationship), and seem totally and completely in love.
However, a source had reportedly previously told Us Weekly that Swift wasn't going to be able to attend the Grammy Awards in Los Angeles or the BAFTAs in London, due to her filming schedule for the movie-adaptation of the musical Cats, in which she will play Bombalurina. So perhaps, Swift was attempting to keep her appearance at the BAFTAs low key. After all, if people knew she was going to be there before she showed up, it probably would have been a much bigger deal than it was.
Swift showing up to the BAFTAs definitely seems to be all about Alwyn and their relationship. Even fan account photos of Swift leaving the event show the pop star seemingly letting her man take center stage, indicating that the 29-year-old simply wanted to support her partner and not have all the attention focused on her.
Swift's presence at the Sunday night BAFTAs is sweet. The singer just finished a record-breaking world tour and is now working hard filming Cats. Swift is a busy lady, but it's clear that supporting Alwyn and his career is of the utmost importance to her. Who knows? He could be her ~end game~ after all.