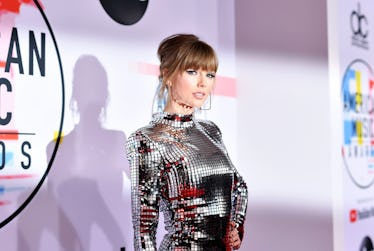 Taylor Swift Just Set A Major Record At The 2018 AMAs Because She's A Boss
Emma McIntyre/Getty Images Entertainment/Getty Images
Taylor Swift is having a fantastic week. After nearly two years of silence in the political realm, she finally took the advice of her own album and decided to speak now and declare that despite the nasty rumors and innuendo, she has never voted in favor of anyone who does not support equal rights and that the GOP senator running in Tennessee did not represent her values, causing a spike in voter registration. Now, to follow it up, Taylor Swift set a major record at the 2018 AMAs, becoming the most decorated female star in the show's history.
The American Music Awards are a bit of an odd beast. The first "fan-voted" music awards show was invented by the legendary Dick Clarke back in 1974. The original format was to celebrate different subcategories of music, including Pop, R&B, and Country. There were even multiple hosts, who each covered their segment in question. (Glen Campbell for Country, Helen Reddy for Pop, etc.) This meant artists could dominate within their category (Reba McIntyre, for instance, won Best Female Country Artist for eight years running.) But it wasn't until the format changed in 2003 to have artists be able to cross from category to category that something like Swift's dominance was made possible.
It also helps that Swift has crossed genres. When she started out in 2008, she was solidly country and spent a goodly portion of her career dominating within that category. Swift won six Best Female Country Artist awards in a row back during that period. In 2000, she won five out of six awards in Country.
Her transference to pop opened up the country categories to other females (Carrie Underwood, for instance, who was a perennial also-ran to Swift in the Female Country Artist category, has now won four times and counting.) But it also gave Swift a whole new space to dominate, winning four and then three out of six nominations in pop in 2013 and 2015, respectively. Coming into tonight's ceremony, Swift had 19 wins.
This year, Swift was up for four awards. She needed to take home three of them to break the record for most wins by a female artist. She would also tie the current record-holder overall, Michael Jackson, with 24. Her nominations were for Tour of the Year, which she won handily for her Reputation tour, plus Favorite Pop/Rock Album, which is she also won handily. All she needed was to win one of her final two categories, Favorite Pop/Rock Female Artist and Artist of the Year.
With her win of Artist of the Year, she did just that.
Swift also followed up on her endorsement earlier this week after winning. As she pointed out, the American Music Awards, which have now voted for her over every other female artist, are voted on by and for the people. "And you know what else is voted on by the people?" she asked during her speech.
It was not the first endorsement of getting young people out to the polls this November, but for Swift to use her record-breaking win to remind everyone of the bigger picture was a selfless and civic-minded act, worthy of the Artist of the Year.