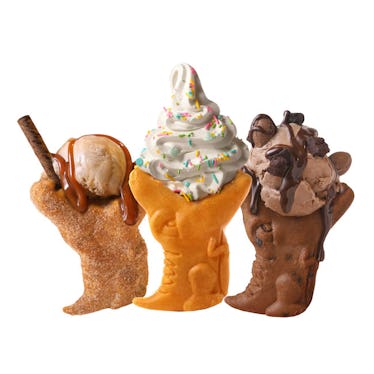 You Can Get An Ice Cream Cone Shaped Like A T-Rex, So Dessert Just Got Wild AF
While my food palette has changed drastically over the last 24 years (aka broccoli is no longer my own worst enemy), my love for dinosaur-shaped foods still burns as passionate as ever. First, dino-shaped chicken nuggets made their way into my life, and then oatmeal with "dinosaur eggs" fell from the heavens above. I loved it all way back then, and I still love it to this day. Now that I've discovered that there's an entire restaurant that sells dinosaur-shaped desserts, though, I really need to go. So, if that sounds up your alley, Sweetosaur's "Wafflesaurus Rex" dinosaur ice cream will really tickle your fancy.
It seems as though waffle cones are the ghosts of ice creams past, because Sweetosaur is now offering the Wafflesaurus Rex, which is a toasty waffle that is hand-rolled into the shape of a T-Rex, according to a press release. It can hold any and all ice cream flavors imaginable. Let me tell you: It's just as amazing as it sounds. The Chocolate Wafflesaurus, on the other hand, is a chocolate dino-shaped waffle, which is served with milk chocolate ice cream, and topped with crunchy chocolate dino eggs, delectable brownie bites, and rich chocolate fudge. Finally, the Churrosaurus is a churro waffle, which is served with sweet dulce de leche ice cream, along with a delicate chocolate wafer, and, of course, a ton of gooey, rich caramel. It sounds out of this world, and I need to make my way there ASAP.
I mean, just look at these gorgeous 'rexes. I seriously can't resist.
Rachel Kanter, the co-founder of Sweetosaur, said in a press release that the Wafflesaurus is Japanese-inspired, and it's on its way to getting patented. Most importantly, it's the most popular item on the menu, because honestly, how could it not be?
In the release, Kanter said,
Inspired by Japanese taiyaki, our Wafflesaurus Rex is our own patent pending original creation made in the spirit of Sweetosaur's distinct style of combining dinosaurs and ice cream. It's our most popular item by far.
Sweetosaur only has one location, and it's on the West Coast, according to a press release. So, yeah, sorry to my fellow New Yorkers. The specialty dessert shop offers all different kinds of dinosaur-themed desserts, like gourmet milkshakes, rolled ice cream, and the Wafflesaurus Rex (obviously). If you're Cali-based, Sweetosaur is located at the Galleria at Tyler mall in Riverside, California. The company is also currently opening a second location in the Del Amo Fashion Center in Torrance, California. Make sure to visit Sweetosaur's website for additional dino-dessert information, and if you want to see some crave-worthy food pics.
Let's be real: All I want in life is dinosaur-shaped food. There's never been an iteration of it that I didn't like. Plus, when it involves waffles and ice cream, you know it's going to be good. I'm incredibly disappointed I can't snag one of these babies for myself today, so it might honestly be time for me to make my way out to the West Coast. Road trip, anybody?