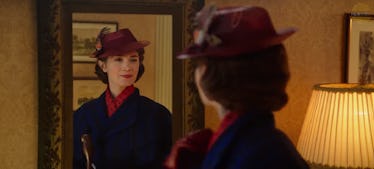 "Supercalifragilisticexpialidocious" Isn't In 'Mary Poppins Returns' For A Good Reason
Walt Disney Pictures
History is bound to repeat itself in the upcoming Disney extravaganza Mary Poppins Returns. Now a grown widower, Michael Banks isn't too keen on finding the magic in life, and the return of his childhood nanny Mary Poppins isn't the only case of deja vu he and his sister Jane ought to experience during her visit. While some sweet nods to the original Mary Poppins are expected in this sequel, "supercalifragilisticexpialidocious" isn't in Mary Poppins Returns for an understandable reason.
While the word that sparked a catchy song and a million spelling bee bonus rounds seems aptly suited for star Lin-Manuel Miranda's love of linguistics, Miranda and titular co-star Emily Blunt won't utter the famous phrase in the new movie. According to the Mary Poppins Returns filmmakers, "supercalifragilisticexpialidocious" is so closely linked with the original 1964 film that they had no desire to recreate it in their own story. Speaking to Entertainment Weekly, screenwriter David Magee said:
The truth is, from the very beginning, we knew how loved the first film was, and we wanted to pay homage to it and make reference to it, but we wanted to make sure that when you started our film, you were watching a new story, a new installment. The hope is that once we've gotten you fully into our world, we could use little tiny references or turns of phrase in music to remind you of a connection, but not constantly rely on the original to say, 'See? See?!' We thought it was more respectful to earn your interest in this movie, and then make it a much fuller experience by connecting it to the old film.
In the age of constant reboots and revivals, Disney has definitely taken a step in the right direction by not barraging fans with constant references to Julie Andrews and Dick Van Dyke's work. After all, the trailer already promises the appearance of the Banks siblings' old kite and Van Dyke playing Mr. Dawes Jr., a character first seen in the 1964 film as the son of Van Dyke's Dawes Sr. Rather than litter the new movie with obvious, direct references, producer Marc Platt says that loyal Mary Poppins fans will notice more discreet "Easter eggs," telling EW:
We wanted to create the story with our own language and in our own way with a nod to the past, but to make it fresh and interesting and stand on its own....[there are] little nuggets that, if you know the movie, provoke both emotional experience and also kind of delight.
While the new characters found in Mary Poppins Returns may seem totally original, some of the story traces back to three of the seven books that author P.L. Travers wrote in succession to her first Mary Poppins story. In case you haven't seen Saving Mr. Banks, Travers wasn't too thrilled about the movie's creative team creating its own elaborate word for a musical number, but maybe she'd enjoy the fact that more of her stories are being adapted for the screen.
We may not have an impromptu spelling bee in store for us this Christmas, but I'm ready for new songs to add to Disney singalongs. Mary Poppins Returns is in theaters on Wednesday, Dec. 19.