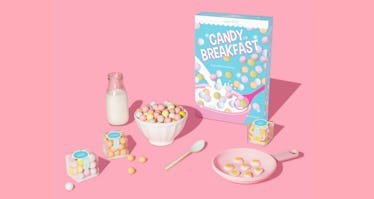 Sugarfina Is Offering Free Samples Of Its Breakfast Candy Collection For A Morning Treat
Sugarfina
Growing up, you were probably advised to steer clear of eating candy for breakfast. But a new collection from Sugarfina will have you skipping out on mom's advice and sinking your teeth into a sugary morning treat. The newly launched "Candy For Breakfast" line includes your favorite confectionery delicacies like Marshmallow Cereal Chocolate Bars and Cinnamon Crunchies. I'll give you a second to wipe up the drool, because this line of breakfast-inspired treats gets even sweeter. Sugarfina will be handing out complimentary samples of the snacks on Saturday, July 28. Sugarfina's Candy For Breakfast collection is here, and you can try it for free.
To celebrate the launch of their latest Candy For Breakfast collection, Sugarfina is declaring Saturday, July 28 as National Candy for Breakfast Day. OK, if you say so. This is going to be a day for the history books because, in addition to the newly-minuted celebratory day, Sugarfina will be passing out free samples of their six new candies, so you can try it before you buy it. On National Candy for Breakfast Day, patrons can stop by any local Sugarfina boutique store from 11 a.m. to 1 p.m. local time to try several of the candies free of charge. There will also be additional breakfast refreshments during the two-hour freebie window.
So, what all is included in the Breakfast for Candy collection? Well, lots of tasty sweets. For all of you brunch lovers, the lineup includes Gummy Eggs that taste like orange juice.
If you are a fan of Cinnamon Toast Crunch cereal, then Sugarfina's Cinnamon Crunchies might be your go-to snack from the collection. The small, cinnamon-flavored candy balls are dipped in milk chocolate and have a hard candy shell. This puts a whole new spin on breakfast to-go.
Fruity Loops are another offering from the Breakfast for Candy collection. These fruit-flavored candy balls are filled with cereal and then dipped in milk chocolate and a fruity candy shell. Yum. You really could eat this — or any of the candies — for breakfast, lunch, dinner, dessert, or snack time.
There are also more substantial options like the Fruity Cereal Chocolate Bar, Cinnamon Cereal Chocolate Bar, and Marshmallow Cereal Chocolate Bar. The Marshmallow Cereal Chocolate Bar and Fruity Cereal Chocolate Bar feature pale pine chocolate from Paris and are each topped with rainbow sprinkles. The Cinnamon Cereal Chocolate bar also features white chocolate from the City of lights and is adorned with Cinnamon Cereal.
Each Breakfast for Candy item ranges in price from $7.50 to $9.95 and can be purchased at your local Sugarfina boutique or at a Sugarfina retailer like Nordstrom and Bloomingdales. You can also buy the Candy for Breakfast collection directly from the Sugarfina website.
I'm so here for this collection, and it sounds incredibly tasty. It could just be the perfect pairing with my morning cup of coffee. Also, those pastel colors don't hurt either. Don't forget to snag your free samples at any Sugarfina boutique store location on Saturday, July 28 from 11 a.m. to 1 p.m. local time.