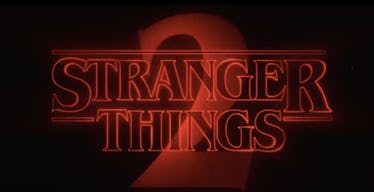 The First Song From The 'Stranger Things' Season 2 Soundtrack Is Here & It's Eerie
Excitement is building for Stranger Things Season 2 and I know I'm not alone in wanting to get my eyes on everything Stranger Things-related that I can. I'm a bit obsessed, but really, aren't we all? The new Stranger Things Season 2 soundtrack song is just one tiny detail that you're going to want to check out before the show returns to Netflix on Oct. 27.
As Stranger Things fans know, the show is set in the '80s, so the nostalgia factor is high and the Duffer Brothers have really embraced the decade perfectly. Part of that is the show's music. The new Stranger Things Season 2 song is another instrumental synth-heavy tune, but captures the theme of the show and the era so, so well.
Composers Kyle Dixon and Michael Stein of S U R V I V E have returned with a song from the Stranger Things Season 2 soundtrack, called "Walkin' in Hawkins." Okay, you've got my interest. What's it like "Walkin' in Hawkins" in Season 2? Well, pretty dang creepy, for sure.
So, let's take a listen. I'll wait here until you're done... you'll want to give your full attention to this before discussing it more.
Let's dig in. "Walkin' in Hawkins" is little bit happy, a little bit dark, and totally mysterious. If it's making you dream up some Stranger Things Season 2 plot points while listening, you're not alone.
Dixon and Stein explained what fans can hear in the new season, noting: "In Season 2 we're introducing new styles of composition, while still revisiting old themes when appropriate. We've created new elements that are necessary to support the story, but still want to remain true to the sound of Season 1."
Very cool.
They will release a full Stranger Things Season 2 soundtrack on Oct. 20, which includes 34 songs, such as "On the Bus," "Scars," "Descent Into the Rift," "Looking For a Way Out," "Eggo in the Snow," "She Wants Me to Find Her," "It's a Trap," "Escape," and "Run."
Last year, the musical duo told Esquire how the music plays an important part in the show, noting:
At the beginning, in the first episode you have to set up this is a perfect little town, everybody's having a great time,so you play up this childish wonder. Then everything goes to sh*t and it gets scary, so they kind of play off of each other.
In other Stranger Things soundtrack-related news, hop over to Synthier Things, which allows you to manipulate the Stranger Things theme song for a little musical fun.
Check out the full Stranger Things 2 soundtrack tracklist to see if you can uncover any potential clues... the song titles are short, but I'm guessing they're big on meaning:
1. "Walkin' in Hawkins"
2. "Home"
3. "Eulogy"
4. "On the Bus"
5. "Presumptuous"
6. "Eight Fifteen"
7. "The First Lie"
8. "Scars"
9. "I Can Save Them"
10. "Descent Into the Rift"
11. "Chicago"
12. "Looking for a Way Out"
13. "Birth / Rescue"
14. "In the Woods"
15. "Digging"
16. "Symptoms"
17. "Eggo in the Snow"
18. "Soldiers"
19. "Choices"
20. "Never Tell"
21. "She Wants Me to Find Her"
22. "Shouldn't Have Lied"
23. "It's a Trap"
24. "Crib"
25. "The Return"
26. "Escape"
27. "We Go Out Tonight"
28. "Connect the Dots"
29. "The Hub"
30. "On Edge"
31. "What Else Did You See?"
32. "Run"
33. "Levitation"
34. "To Be Continued"
Fans are too excited about the new music, with one person tweeting: "The music in the Stranger Things 2 trailer gave me the shivers - in a good way. Can't wait!"
Same. Stranger Things Season 2 lands on Netflix on Oct. 27. Clear your calendar.
Check out the entire Gen Why series and other videos on Facebook and the Bustle app across Apple TV, Roku, and Amazon Fire TV.