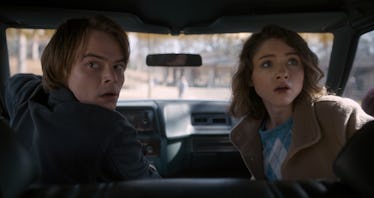 'Stranger Things' Season 2 Ratings Are Even Bigger Than You Imagined
Netflix
Ever since House of Cards put Netflix streaming on the map, broadcast and cable networks having been stressing over how much audience they lose to the newest way to watch TV. Television screen time is a zero-sum game: If you're spending time watching "X," then you're not turning on "Y" or "Z." It wasn't until recently that Nielsen began to measure Netflix audience stats that we had an idea of how many people were watching. But, with numbers now out for Stranger Things Season 2 ratings, it's starting to look like the other networks should be worried indeed.
Netflix has played it very close to the chest with their audience numbers ever since they hit the scene in 2013. While shows like Orange Is The New Black and Marvel's Daredevil got lots of buzz, no one could be sure how many were watching. Third party vendors tried to make educated guesses, but with no confirmation from Netflix, and more than a little "pooh poohing" of those methods undermined most attempts.
It was only this past year that Nielsen, the legendary behemoth who has been responsible for recording audience viewership and for TV since it began, started to use their "people-meter technology" for the streaming service. This past summer, they began releasing numbers that most trusted, even if Netflix still wouldn't confirm.
It helped that the numbers they came up with were in line with what many suspected: Netflix's viewership was much like HBO's. House of Cards Season 5 did 4.6 million viewers on average on premiere day, and Marvel's The Defenders did 6.1 million viewers. That's pretty small by broadcast standards, but pretty good for a pay service, when one reflects that Netflix streaming only reaches 59% of US households.
Many suspected Stranger Things numbers would be higher that that. The social media footprint, for example, was far larger than anything else the streaming service has done. There was Netflix's full court, press-level media blast up to the show, which is unusual for most of their in-house productions.
And, there was the small matter of raising their monthly streaming fees only weeks before the show arrived, as if they were confident that audience response would be so positive, they could demand more money without worrying about blowback.
But no one expected numbers of this magnitude:
The company released its latest, and most interesting, SVOD measurement to date on Thursday afternoon — citing an audience of 15.8 million viewers, watching the sophomore premiere episode, "Chapter One," within three days of its launch... Both of those numbers, by Nielsen standards, are equivalent to the live-plus-3 ratings data you see from traditional TV.
To help put these numbers in context, let us compare to some of the highest rated shows in the last two months (Aug. 27-Oct. 27):
By Nielsen's measurements, Stranger Things Season 2 beat AMC's The Walking Dead's season premiere, and deserves to be in the conversation that includes HBO's Game of Thrones, NBC's This Is Us and ABC's newest show, The Good Doctor.
(For those wondering why this is the measurement Nielsen chose to emulate: Live +3 is basically jargon for "viewers who watched in the first 72 hours after broadcast," which covers when the majority of time-shifters have tuned in. So, for example, The Walking Dead's "Live +Same Day" rating, or those who watched without time-shifting, was 11.4 million. Their "Live +3" rose to 15 million.)
Here's a breakdown of the rest of the Stranger Things episode ratings:
Chapter Two — 13.7 million viewers
Chapter Three — 11.6 million viewers
Chapter Four — 9.3 million viewers
Chapter Five — 8 million viewers
Chapter Six — 6.4 million viewers
Chapter Seven — 5.3 million viewers
Chapter Eight — 4.9 million viewers
Chapter Nine — 4.6 million viewers
Nielsen also provided a couple other interesting notes. With Stranger Things now out for seven days, at least 4 million of those 15.8 have watched all 9 episodes. Guess we'll need to spoiler alert things for a bit longer, then.