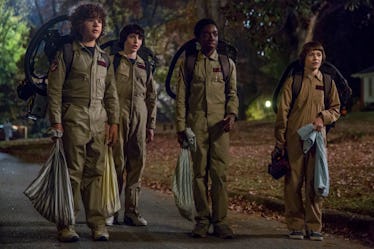 'Stranger Things' is Headed To Universal Studios & We're Ready To Go To The Upside Down
Netflix
Any month that isn't October is a bit of a drag for anyone who loves creepy ghost stories, haunted houses and, as of recently, Stranger Things. The Netflix hit celebrates both '80s pop culture and supernatural spookiness, and fans are still begging for more after the release of the first two seasons. Although Season 3 supposedly isn't due out until 2019, eager viewers have something great to hold them over this Halloween. Stranger Things is headed to Universal Studios for Halloween Horror Nights this year, and anyone who dressed up as Eleven last year can definitely repurpose that costume.
Following past years' themes of American Horror Story, Saw, and The Shining, Halloween Horror Nights will debut its own version of the Upside Down at Univeral Studios Hollywood, Universal OrlandoResort , and Universal Studios Singapore this fall. According to Entertainment Weekly, each location will feature a new maze based on details from Season 1 of Stranger Things. Creators Matt and Ross Duffer and producer Shawn Levy are working with the Horror Nights creative team to construct mazes that recreate Hawkins, Indiana, including the Byers home, the secret lab under the Department of Energy, and, yes, even the Upside Down woods. Fans will reportedly walk through each maze to experience Season 1's most popular scenes, characters, and locations.
The news was revealed in a video announcement on Tuesday.
A poster promoting the announcement was also released, showing Lucas, Dustin, Mike, and Will on their bicycles and staring down the creepy-looking entrance to Universal Studios. At this rate, all Halloween Horror Nights needs to look even better is some guest appearances from cast members.
Seeing that we know so little about the storyline of the upcoming Season 3, the Stranger Things-themed mazes are a perfect way to capture what fans initially loved most about the show before it takes a slightly different direction next season. While the first two seasons took place during the school year, Levy confirmed to EW that Season 3 will occur during summer vacation, saying:
[Season 3 is] very much the Stranger Things I think people know and love. It's big and spooky. Season 3 has legitimately creepy moments and events, but it's incredibly warm and character-based because at the end of the day, I think that's what people love most about Stranger Things. Mike and Eleven are going strong, so that's a relationship that continues, and same with Mad Max and Lucas. But again, they're like 13- or 14-year-old kids, so what does romance mean at that stage of life? It can never be simple and stable relationships and there's fun to that instability.
The new season is also expected to move the plot closer to its official ending. The Duffer brothers have hinted that they only have four total seasons in mind for the project, while Levy told EW:
Hearts were heard breaking in Netflix headquarters when the Brothers made four seasons sound like an official end, and I was suddenly getting phone calls from our actors' agents. The truth is we're definitely going four seasons and there's very much the possibility of a fifth. Beyond that, it becomes I think very unlikely.
If we didn't have Halloween Horror Nights to look forward to, I would be seriously impatient to see the new plot elements of Season 3. As for the special Stranger Things treats at Universal Studios, Autumn 2018 may seem a long time away when winter seemingly refuses to end, but the good news is that tickets are already available for Orlando's Halloween Horror Nights event, which runs on select nights until Nov. 3. In both Orlando and Hollywood, the themed celebration begins on Friday, September 14, while fall festivities kick off in Singapore on Friday, September 28 and end on Halloween. Time to look up flight prices!
Until you can plan out your themed outfits for Halloween Horror Nights, Seasons 1 and 2 of Stranger Things are now streaming on Netflix. The 2019 release date of Season 3 has yet to be announced.