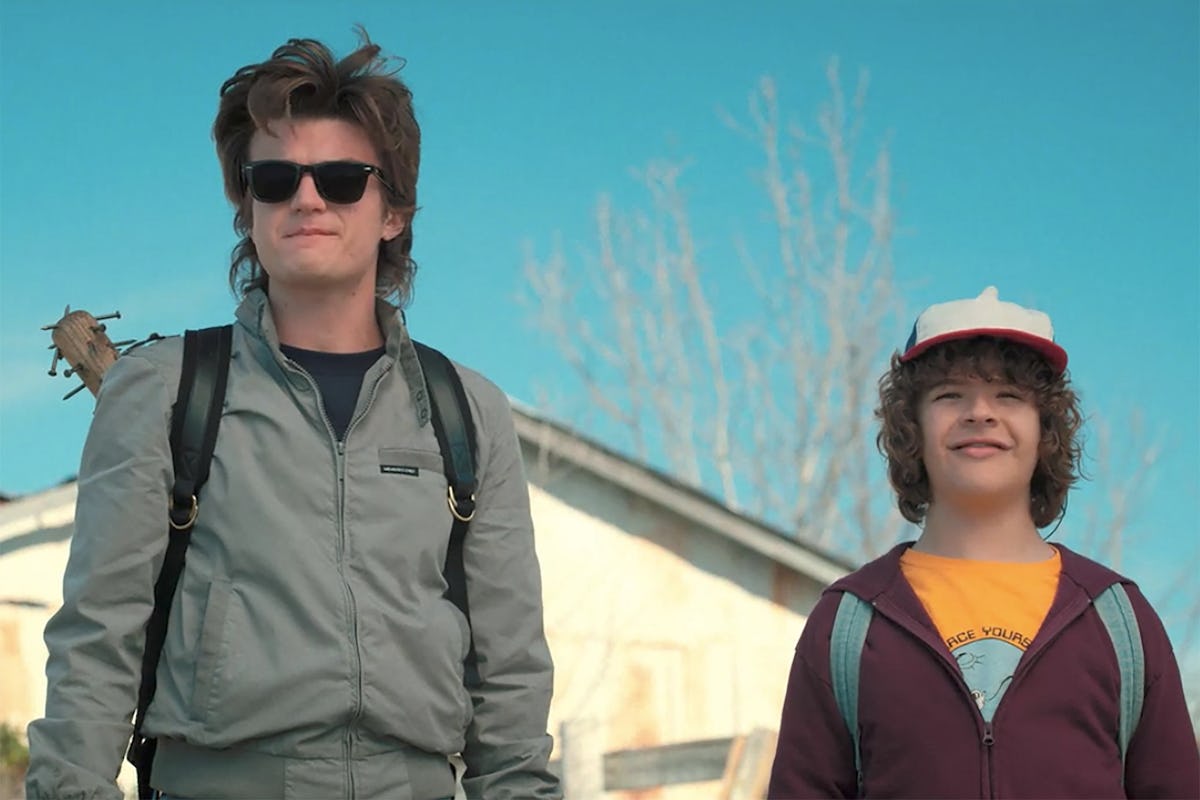 Steve & Dustin's IRL 'Stranger Things' Bromance Is Too Perfect For Words
Netflix
There's lots to love in the first two seasons of Stranger Things. But most of the love I've seen goes to the story line of Slowly Maturing Steve and his budding, brother-like relationship with Dustin. Their friendship in Season 2 earned them my personal "Best Odd Couple 2017" award, but while on screen the two of them have great chemistry, it's the continuation of that relationship off screen that really makes the heart sing. Now Steve and Dustin's IRL Stranger Things friendship has extended to talking about how talented the other is.
Both of these young men, Joe Keery and Gaten Matarazzo, are super talented, for the record. Both also have the distinction of changing the way their character was originally written by the Duffer brothers by sheer force of their talent and personalities. Most fans know that the character of Steve Harrington was originally far closer to the one Billy portrayed in Season 2, but when Keery auditioned, the Duffers found him just so likable that they changed the way the season ended* to give him a redemption arc.
(*Originally his last scene was supposed to be the fight with Jonathan, and then he would never be seen again. All that washing of the graffiti and the demogorgon fight with the baseball bat was added in afterwards.)
What fans might not know is how much Dustin's character changed when Matarazzo was cast. It was early on in the process. Gaten Matarazzo was the first kid the Duffers hired of the four, and they rewrote his character from the ground up. Originally "Dustin" was your classic 1980s nerd, the one with the thick glasses, the braces, the nasal voice, and the cussing up a storm. (Think Finn Wolfhard's character from It.)
Matarazzo gave them a completely different kind of nerd, one they hadn't even thought of. With his untamed hair, lisp, and, most importantly, his cleidocranial dysplasia. Dustin now became someone who was far less of a cliche, and yet still just as much of an "outcast" that he would be shunned by cool kids.
Steve's pairing with Dustin was an accidental stroke of genius by the Duffers, who originally decided to try it because they didn't have a better place to tie Steve into the Season 2 story line once he and Nancy broke up. The two of them had such instant chemistry, they ran with it. But when asked by Entertainment Weekly about it, Keery says it was really all Gaten.
He's waaaay better than me. He's an amazing actor.
Did you awww? I awwwed like mad. But Keery isn't just blowing smoke. He says the experience was once that thought him new tricks of the trade.
I've primarily worked with actors the same age as me for the past four years, so working with somebody who is 10 years younger than me, you learn a whole different set of skills.
The two of them work so well together that they've been paired up outside the show, too. Check them out answering fan questions earlier this month.
As for whether there will be more Dustin looking to Steve for advice on girls, hair and life in Stranger Things Season 3, Keery says he has no idea where the show is going after this. This is partly because Season 3 isn't even greenlit yet.
If you're super shocked by that, you're not alone. It wasn't even a year ago that everything on Netflix got greenlit for another season, most of the time before the previous season even aired. (Stranger Things Season 2, for instance, was a go before Season 1 arrived in July 2016.) But 2017 has seen a major shift in the way the streaming service does business. They've gotten to be a little bit more like their broadcasting counterparts, canceling shows that don't do well, and not automatically greenlighting everything just because it exists.
Does that mean we should worry? With ratings that are on par with Game of Thrones, and beating shows like The Walking Dead, we are guessing there will be a Season 3 come next year. But when they get the go ahead to start filming and when it arrives are still TBD.