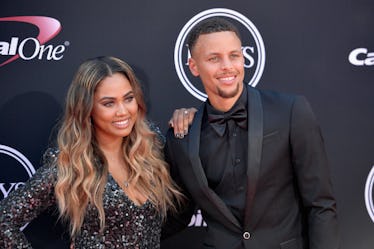 Steph & Ayesha Curry Welcomed Their New Son, So Now They're Even More Fam #Goals Than Ever
Matt Winkelmeyer/Getty Images Entertainment/Getty Images
It's been an eventful few months for the Curry family. In June, Steph won yet another NBA Championship with the Golden State Warriors, and just a few weeks later, Steph and Ayesha Curry had their baby boy, Canon W. Jack Curry. While it remains to be seen whether Canon will inherit his father's basketball skills, one thing is clear: With the addition of their new son, the Currys have taken fam #goals to a whole new level.
Steph and Ayesha took to Instagram on Wednesday, July 4 to announce their son's birth, and the couple seems absolutely thrilled to have added a fifth member to their line-up. (Sorry, couldn't help myself.) Steph posted a sweet photo of the newborn, writing, "On this journey, on this quest... protect me... I'm bless! Canon W. Jack Curry."
Steph's post may have been a little light on details — I have a million other questions: How are Canon's sisters reacting? When was he born? How did the Currys decide on the name? — but luckily, Ayesha's Instagram post about the baby was a bit more informative. Ayesha posted a black and white pic of five-year-old Riley and three-year-old Ryan Carson with their new brother, and it will literally melt your heart.
"My heart is FULL. God has been too good to us," wrote Ayesha. "Our beautiful baby boy Canon W.Jack Curry 7/2/2018. He joined us earlier than we thought and we couldn't be more excited and grateful. Family of 5!" I'm living for this info. Steph may show off on the court, but clearly, Ayesha is the one who knows how to give the people what they want. Plus, there's nothing cuter than watching kids interact with their new siblings — especially when those kids are as gorgeous as Riley and Ryan Carson.
Back in February, Ayesha pretty much broke the Internet when she announced her pregnancy (in a "Preggers" T-shirt, because duh). "Heyyyy how did this happen?! Curry party of 5," Ayesha wrote at the time. "Feeling very blessed... and very sick. Yippie! #curryfor3"
The couple seemed over the moon about the pregnancy — is it just me, or did Steph look over at Ayesha every time he hit a three-pointer? — but it wasn't always easy. In February, Ayesha shared on her blog GoInspo that despite being over four months along, she was suffering from Hyperemesis, a type of extreme morning sickness. She wrote:
I still have nausea, can't sleep, pee every 5 seconds and am just so darn tired. I️ have what docs call Hyperemesis. This basically means the nausea, incessant sickness and exhaustion probably won't go away. The only silver linings here are that my itty bitty baby is healthy and Princess Kate has suffered from the same condition during her pregnancies. Not feeling super royal though.
Judging by her Instagram, it seems like Ayesha's condition improved as she got further along in her pregnancy — maybe watching her husband win his third NBA title in four years helped? — and by June, she was ready to pop (and joking about it on Instagram).
So, now that the Curry's finally have a starting five, will they be adding any more players to their team? In a 2016 interview with Parents magazine, Ayesha said that the couple — especially Steph — is open to having more children. "He'd have three more kids right now if he could," Ayesha said about her husband. Hopefully, the Curry's wait a little before having another adorable baby, because it's going to take some time for me to get over the Canon cuteness overload.
Where can I get a Canon Curry Warriors jersey?
Check out the "Best of Elite Daily" stream in the Bustle App for more stories just like this!