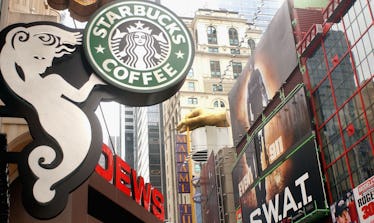 Starbucks Will Close All Locations For One Day Following Racial Profiling Incident
Stephen Chernin/Getty Images News/Getty Images
Starbucks has been getting some negative attention in the media lately. After an incident where two Black men were arrested inside a Philadelphia location of the chain after an employee called the police, the company announced on April 17 that Starbucks will close all of their locations for one day in May in order to conduct "racial-bias education" training for their employees nationwide. It's a bold move that the company seemingly hopes will (at least in part) make up for the fact that such an incident ever happened at one of their stores in the first place.
In a statement made by Starbucks CEO Kevin Johnson, the company has made plans to close all 8,000 of their company-owned locations as well as their corporate offices on in the afternoon of Tuesday, May 29. During that time all employees will complete a racial-bias training program "geared toward preventing discrimination in our stores." In that same statement Johnson said,
I've spent the last few days in Philadelphia with my leadership team listening to the community, learning what we did wrong and the steps we need to take to fix it... Closing our stores for racial bias training is just one step in a journey that requires dedication from every level of our company and partnerships in our local communities.
This decision by the CEO comes after a video posted to Twitter on April 12 went viral, in which two Black men were seen getting arrested at a Starbucks in the Philadelphia area. According to the video's original poster, the police were called because the two men "hadn't ordered anything," and were just "waiting for a friend to show up, who did as they were taken out in handcuffs for doing nothing." In the video, you can clearly hear one other disturbed customer questioning the police as to what exactly these two men had done that warranted their arrests. "What did they do?" the customer repeatedly asked.
At the time of publication, the video has been viewed over 10.4 million times.
In a statement via Facebook Live on April 14, Philadelphia Police Department Commissioner Richard Ross confirmed that the arrests were made following a 911 call made at around 4:40 p.m. from the Philadelphia Starbucks alleging disturbance and trespassing. Ross defended the officers involved, saying that he believes the officers "did absolutely nothing wrong," and that they "followed policy, they did what they were supposed to do, they were professional in all their dealings with these gentlemen."
After the public outrage over the video, Starbucks issued an official apology via a press release on April 14. Following that official statement, Johnson also issued a personal letter of apology, "to once again express our deepest apologies to the two men who were arrested with a goal of doing whatever we can to make things right." Johnson outlined his plans to join regional vice president Camille Hymes in Philadelphia to speak with community members, customers, as well as law enforcement about this incident.
Johnson also stated that he hoped to "meet personally with the two men who were arrested to offer a face-to-face apology." In addition to the apologies, as well as planned employee racial-bias training, ABC News reported on April 16 that the store manager that made the 911 call is no longer working at that Starbucks.
Johnson did in fact have the opportunity to meet with the two men and make that face-to-face apology on April 16, according to NBC News. But despite these moves meant to alleviate the severity of this incident, the controversy of the arrests continues to inspire outrage. Protesters have descended upon that specific Starbucks on both April 16 and 17, carrying various "Black Lives Matter" posters and chanting phrases such as "Too Little, Too Late," according to NBC Philadelphia. Customers have also been threatening to boycott the chain as a result of this incident.
Although this company-wide shutdown in order to prevent such an incident from happening again is great, clearly the damage has already been done. It will have to remain to be seen how effective this racial-bias education training will be, but it's definitely clear that the company is doing everything they can to curb the side-effects of these two arrests.