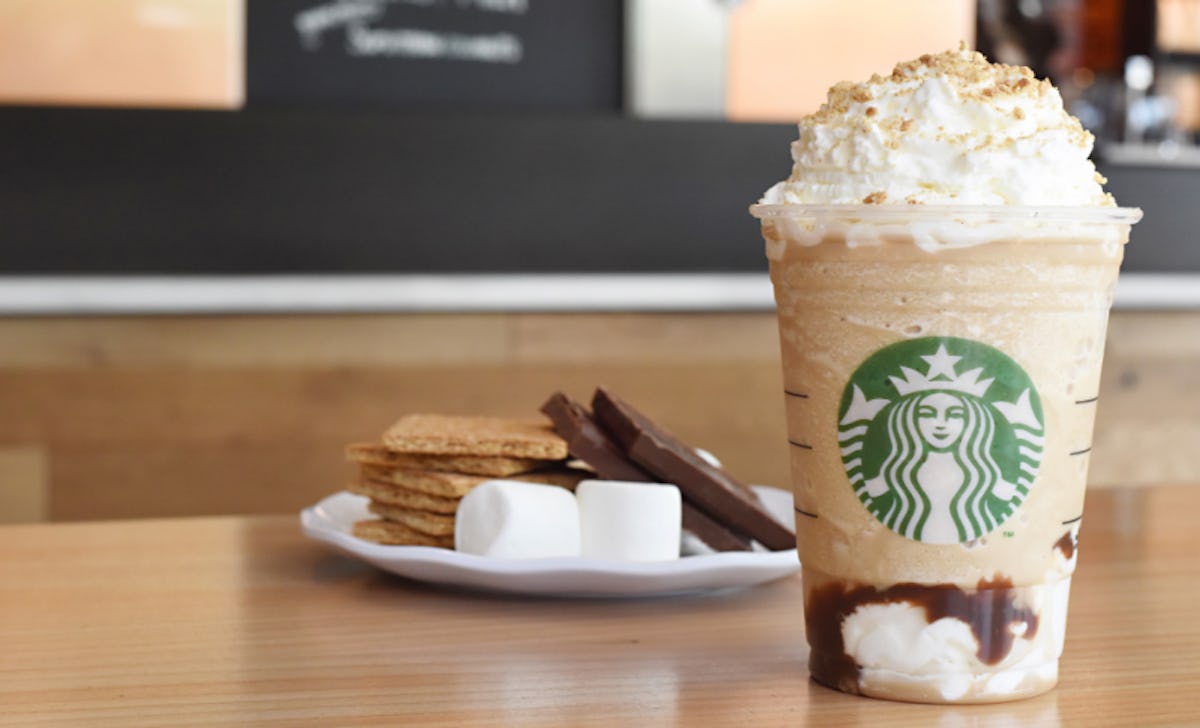 Mark Your Calendars, Because You Can Get Half Off Starbucks Frappuccinos On Thursday
If you think Frappuccinos are only for hot summer days, think again. The ice-blended beverages are also an ideal treat for the cool, crisp days of fall. You know, the afternoons when the sun is shining bright but there is a chilly breeze in the air? There are several different (and totally delicious) autumn Frappuccino flavors, so why not try one for yourself? Lucky for you, Starbucks' Oct. 11 Happy Hour offers half off Frappuccinos for a sweet fall treat.
The latest Happy Hour deal from Starbucks takes place on Thursday, Oct. 11 and starts at 3 p.m. at participating locations nationwide. During the upcoming Happy Hour, you will be able to order any Frappuccino blended beverage for 50 percent off the menu price. One quick tip: The Happy Hour promotion only applies to Frappuccinos that are size grade or larger, so make sure you don't order a tall or the deal won't apply.
One more thing. Happy Hour deals can't be used with other offers or promo codes you may have from Starbucks. It's only good for the deal at hand. Oh, and the deal is only intended to be used once. Sadly, you can't hit up multiple Starbucks locations and get a half-off Frappuccino at each one. Nice try, though.
If you aren't familiar with Starbucks' Happy Hour, let me fill you in. Starbucks' Happy Hour is a (mostly) weekly deal that's offered on Thursdays and sometimes Fridays. Happy Hour usually includes buy-one-get-one-free beverages or half-priced deals like the current Frappuccino offer. It's not too late to sign up, either.
To get Happy Hour deals delivered straight to your inbox, head over to the Starbucks Happy Hour website. You'll just need to submit your first name and last name, valid email address, and zip code. In just a few short seconds, a Starbucks Happy Hour deal will appear in your inbox with a special code just for you. Show that code to your barista to claim your half-priced Frappuccino on Thursday, Oct. 11.
For a taste of fall, I recommend trying one of several Frappuccinos. First up? The Smore's Frappuccino. Nothing says sitting around a bonfire like a cup full of marshmallow-flavored whipped cream and a graham cracker crumble. Next, I'd be remiss to leave out the Pumpkin Spice Frappuccino. This is the crown jewel of all fall coffee, so it makes sense that Starbucks would turn it into a Frappuccino for PSL lovers like me to enjoy. Finally, the Maple Pecan Frappuccino is an obvious choice. It's got a sweet and nutty flavor and is topped with sweet whipped cream, as well as a few sprinkles of orange and yellow sugars.
So what's the story behind one of Starbucks' most coveted beverages? In 1993, Starbucks purchased several small coffee shops that made a "blended coffee beverage," according to Starbucks. Starbucks reimagined the cold, sweet slushy drink and turned it into the Frappuccino that you know and love today. The Frappuccino was first launched in California and was introduced across the country in 1995.
I'm at Starbucks several times throughout the week. I'm all about trying to maximize my caffeine intake, so Frappuccinos aren't usually at the top of my drink list when I place my order. While Frappuccinos aren't usually my go-to beverage, I'm always up for a sweet coffee treat every now and then. But that all changes when Starbucks pulls through with an affordable AF Frappuccino deal. That's why Starbucks' upcoming Happy Hour deal is the perfect way for me to enjoy a Frappuccino from Starbucks.