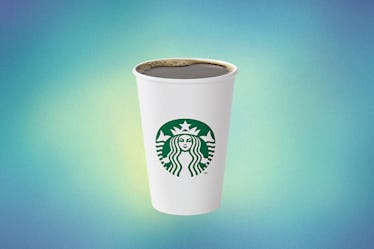 Starbucks Is Celebrating National Coffee Day In A Way That'll Warm Your Heart
Starbucks
Whenever I think about National Coffee Day, free coffee comes to mind. There are tons of places offering a complimentary cup of joe on the Sept. 29 holiday — and for that, I am thankful. Starbucks, however, is not partaking in the "free" special this year. Don't get me wrong: The company is still being extremely generous in honor of the date, but its efforts reach far beyond customer convenience. Instead of offering free brews, Starbucks' National Coffee Day efforts will help Puerto Rico one year after Hurricane Maria rolled through the island and decimated its coffee farms. I don't know about you, but that warms my heart way more than a complimentary cup does.
For reference, Hurricane Maria hit Puerto Rico on Sept. 20, 2017, and wreaked havoc on its coffee industry. One Puerto Rican family in particular — the Reyes — lost 95 percent of their coffee crop when the storm swept through their farm. According to one of the family members, Erica Reyes, it was "like a bomb went off" — and finding new seeds to rebuild seemed impossible. Thankfully, Starbucks has stepped in to help with the process. The company announced on Sept. 14 that it will donate 2 million disease-resilient seeds to Puerto Rican coffee farmers so they can rebuild the coffee industry.
Excuse me while I cry happy tears into my PSL.
Michelle Burns, Starbucks' senior vice president of global coffee & tea, spoke about the selfless offering in a press release. She said,
We have an opportunity and a responsibility to be part of creating a future for coffee farmers in Puerto Rico. Providing seeds may sound simple, but that's what gets directly to the farmer. It's the purest example of our ability to have a direct impact.
Of course, the seeds will not produce coffee over night. According to Starbucks, the Puerto Rican coffee community has a long road ahead of it — but the sooner it gets the seeds, the better. After the seeds arrive in Puerto Rico in September, they'll have to be quarantined for five months until the Department of Agriculture says they're pest-free. Then, the seeds will germinate and be distributed to farmers by spring 2019.
That's not the end of it, though. Per Starbucks, it takes about three whole years for a coffee plant to produce "quality coffee seeds" — so restoration on the farms probably won't happen over night. Virginia Rivera, marketing director for Starbucks Puerto Rico, talked about the timeline in a press release. She said, "A lot of TLC goes into this. The sooner we get the seeds to farmers, the sooner we can rebuild the local coffee industry."
Still, help is on its way — and Starbucks is the company to thank. In addition to donating 2 million seeds, The Starbucks Foundation and its licensing partner in Puerto Rico (the Fonalledas Foundation) are partnering with World Coffee Research in effort to reboot the area's coffee industry. The organization will teach farmers how to properly grow coffee on the island and enhance the quality of the seeds, which will surely result in a delicious cup of joe.
There's no doubt in my mind that Puerto Rico will be growing coffee again in no time. With the help of dedicated farmers and Starbucks' contributions, things are looking up. In my opinion, that's much more important than a free brew on National Coffee Day.