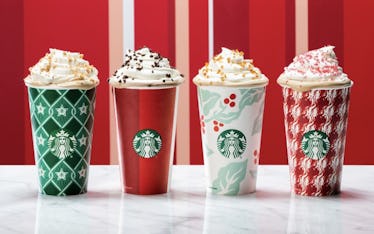 You Can Get A Free Holiday Drink At Starbucks Today, So Bring On The Peppermint Mocha
I know what I'm doing this afternoon. I've been waiting patiently for Starbucks to bring back Happy Hour. It never officially went anywhere, but it it's been a hot minute since the last Happy Hour. Finally, Happy Hour is returning with the most perfect drink deals for the holiday season. What's being offered? Starbucks' Dec. 6 Happy Hour includes buy-one-get-one holiday drinks for you and a friend.
Starting at 3 p.m. local time on Thursday, Dec. 6, you can get a free holiday drink with any holiday drink purchase, according to Starbucks. The deal is valid at participating stores across the United States and cannot be combined with any other offers. Like past Starbucks Happy Hour offers, this one only applies to drinks that are size grande or larger. If you're wondering what exactly the holiday drinks include, allow me to help you out. According to Starbucks, here are the holiday drinks that you can order Thursday afternoon:
Peppermint Mocha
Peppermint White Chocolate Mocha
Toasted White Chocolate Mocha
Caramel Brulée Latte
Chestnut Praline Latte
Eggnog Latte
Chai Eggnog Latte
Gingerbread Latte
Pumpkin Spice Latte
Maple Pecan Latte
Salted Caramel Mocha Latte
Juniper Latte
According to Starbucks, you can get any one of these beverages made however you'd like. Yes, that even includes the Frappuccino blended and créme versions of these flavors. My personal favorite icy-blended drink from Starbucks right now is the Toasted White Chocolate Mocha Frappuccino. It honestly tastes like a sugar cookie to me and I'm here for that. But I'll be skipping out on the Frappuccinos today and ordering something much warmer. It's pretty chilly out there and I need a Peppermint Mocha to warm me up. It is nice to know, though, that the Dec. 6 Happy Hour deal includes iced drinks, too, if that's what you are in the mood for.
To gain access to Starbucks' Happy Hour promotion, you will need to do one of two things. The easiest thing to do is to visit the Starbucks Happy Hour website and sign up with your email address. You will need to provide a few other details such as your first name and last name, as well as zip code. Once you submit this information, you will receive your Starbucks Happy Hour code shortly after.
The second way to sign up for Happy Hour deals is to become a Starbucks Rewards Member. This step is a little more involved, but the payoff is totally worth it. Once you are all set up, make sure to download the Starbucks app. This is where your Happy Hour barcode will be automatically loaded every time there is a Happy Hour deal to be had. You can find this by navigating to the "Inbox" tab in the upper lefthand corner of your Starbucks app. Click your "Messages" folder and you'll see the deal. Just mention the offer to your barista when you order and present the barcode when you go to pay for your order.
Whether you're doing a little holiday shopping this afternoon or you're in between meetings, Starbucks' Happy Hour is the perfect midday pick-me-up. I'll see you at Starbucks this afternoon.