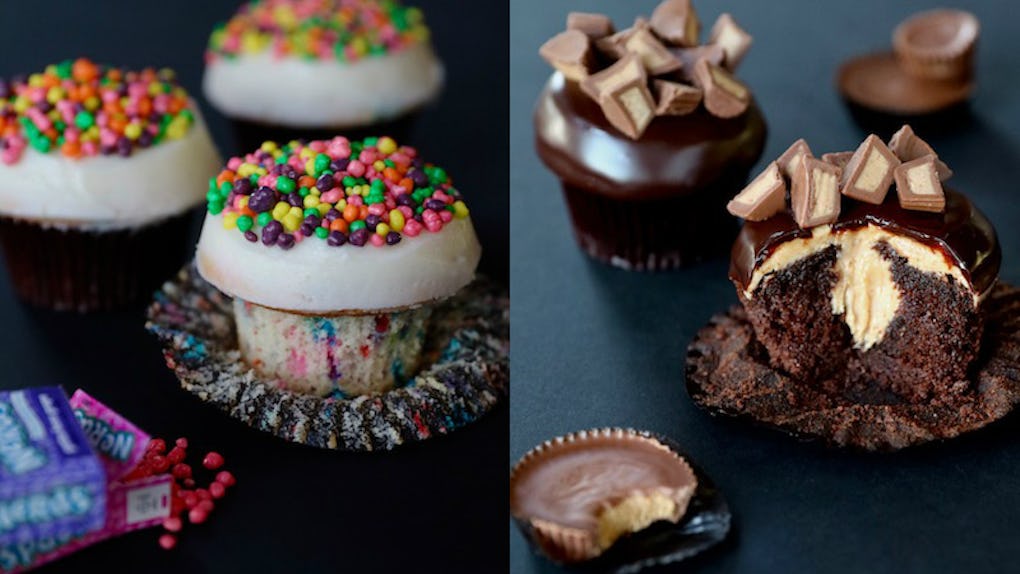 Courtesy of Sprinkles
Sprinkles' Halloween Cupcake Flavors Will Make You Ditch Your Candy Bars For A Bite
Whenever I think about Halloween, candy obviously comes to mind. I'm talking about mini chocolate bars, fruity lollipops, bags of candy corn, and more. I don't really think about baked goods throughout the spooky season, but it looks like that's about to change. Sprinkles — the company that brought you the beloved Cupcake ATM — recently announced three new cupcakes that'll inspire you to put your candy bars down. Why? Because Sprinkles' Halloween cupcake flavors are made with your go-to Halloween candies, so there's no need to go trick-or-treating for more.
That's right: You can taste your favorite Halloween candies throughout October without opening any wrappers, because Sprinkles' candy-inspired cupcake options will give you the sweet flavors that you're craving. Heck, you'll even taste fluffy cake with every bite, because each cupcake is a candy-cake hybrid of your favorite treat.
There are three candy-inspired cupcakes that'll be released at Sprinkles bakeries throughout the month of October, which include the Reese's Peanut Butter Cup Cupcake, the Nerds Cupcake, and the Twix Cupcake (YUM). All three cupcake flavors won't be available at once, so you'll have to visit your local Sprinkles bakery when your favorite flavor becomes available. Luckily, the company's candy-inspired selection will be available until Oct. 25, one cupcake at a time.
Reese's Peanut Butter Cup Cupcake
Sprinkles' Reese's Peanut Butter Cup Cupcakes hit the shelves on Oct. 8, and they will be available at Sprinkles' bakeries until Oct. 14. As you can see, this treat is perfect for chocolate-peanut butter lovers with a sweet tooth. According to Sprinkles, it's made with chocolate cake and is filled to the brim with peanut butter frosting. Then, it's topped with even more peanut butter frosting and chocolate ganache. The cupcake is also sprinkled with Reese's Peanut Butter Cups, which finishes the dessert off right.
Nerds Cupcake
Sprinkle's Nerds Cupcake will become available on Oct. 15 and last until Oct. 21. This treat is perfect for anyone who'd rather snack on something sour than sweet, because it's topped with actual Nerds. The cupcake itself is made with lemon birthday cake and topped with lemon frosting. This dessert will definitely make your lips pucker, and I'm ready to try it.
Twix Cupcake
The third and final cupcake of Sprinkles' candy-inspired selection is the Twix Cupcake, which will become available on Oct. 22. The sweet treat will be available until Oct. 25 — and it's definitely worth the wait. According to Sprinkles, the Twix Cupcake is made with chocolate cake that's filled with caramel and Twix. Then, it's topped with even more Twix and dark chocolate frosting. As someone who loves caramel and dark chocolate, I think this cupcake is going to be my favorite out of the three.
Even if you have your eye on one of these cupcakes in particular, you'll probably want to try all of them. On Friday, Oct. 26, Sprinkles will launch a poll via Instagram Story where customers can vote for their favorite Halloween flavor. Then, the winning cupcake will become available on Oct. 31. In other words, you can snack on your favorite candy-flavored cupcake when Halloween rolls around.
So, what are you waiting for? Head to your local Sprinkles and start trying these flavors. At the time of publication, the Reese's Peanut Butter Cup Cupcake is available. That'll change as the month goes on, so keep an eye on the calendar so you can try 'em all.