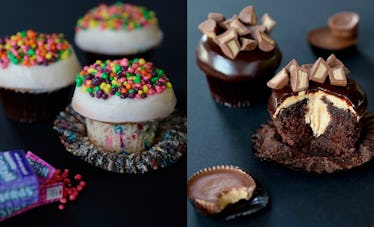 Sprinkles Released New Halloween Flavors That Taste Like Your Favorite Candies
Courtesy of Sprinkles
Whenever I think about Halloween, candy obviously comes to mind. I'm talking about mini chocolate bars, fruity lollipops, bags of candy corn, and more. I don't really think about baked goods throughout the spooky season, but it looks like that's about to change. Sprinkles — the company that brought you the beloved Cupcake ATM — recently announced three new cupcakes that'll inspire you to put your candy bars down. Why? Because Sprinkles' Halloween cupcake flavors are made with your go-to Halloween candies, so there's no need to go trick-or-treating for more.
That's right: You can taste your favorite Halloween candies throughout October without opening any wrappers, because Sprinkles' candy-inspired cupcake options will give you the sweet flavors that you're craving. Heck, you'll even taste fluffy cake with every bite, because each cupcake is a candy-cake hybrid of your favorite treat.
There are three candy-inspired cupcakes that'll be released at Sprinkles bakeries throughout the month of October, which include the Reese's Peanut Butter Cup Cupcake, the Nerds Cupcake, and the Twix Cupcake (YUM). All three cupcake flavors won't be available at once, so you'll have to visit your local Sprinkles bakery when your favorite flavor becomes available. Luckily, the company's candy-inspired selection will be available until Oct. 25, one cupcake at a time.