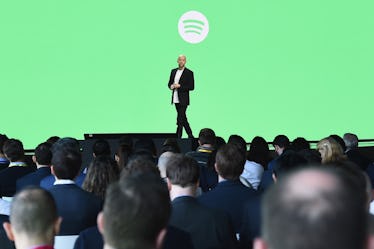 This Holiday Deal On Spotify Subscriptions Will Have You Grooving Through The Season
Spotify is ringing in the holidays with deals sure to excite new and old users alike. Spotify's holiday Premium deal gives first-time users huge perks for signing up for the streaming service, and the company is joining the countless brands like Target, Starbucks, and Amazon to offer consumers competitive deals for the holidays. And I know that a sweet pair of new headphones might be a great gift, but you know what else is great? Music to play on it.
So, what do Spotify's holiday deals look like? Well, it's pretty sweet: you can get three months of Premium for just $0.99 if you haven't previously used a 30-day trial or provided any credit card information. For former Premium users who cancelled their account before October 16, 2018, Spotify is offering three months for the price of one, $9.99, just in case the streaming service can win 'em back. These limited-time offers will be valid to eligible users who sign up between November 16 and December 31, 2018, so get moving and grab yourself a subscription or buy it as a holiday present for a friend!
As a Spotify Premium user myself, I can attest to how much better the service is than Spotify Free. With Premium, I can listen to music ad-free, skip songs an unlimited number of times, download music and listen to it offline, and play any track at any time, not to mention I get higher quality audio. Spotify Free users are able to shuffle songs but don't get the rest of the benefits that come from Premium, meaning though you have access to Spotify's entire library, you don't necessarily have control over your listening experience.
I have to say, it's a pretty solid alternative to a physical gift (if you're not, you know, just buying it for yourself). Any gift recipient gets to listen to whatever kind of music they actually like, so no more hoping that mix CD suits their taste. And best of all? You don't have to find room for it in an overcrowded apartment. Yes please.
With millions of songs, 191 million active users, and over three billion playlists, Spotify is the world's most popular streaming service. Not only do Premium users have access to the Spotify's entire library of songs, podcasts, radio channels, videos, and concert date information, but listeners also get personalized playlists made just for them. Spotify's Discover Weekly playlists are groupings of personalized music recommendations based on your listening habits. The playlist updates weekly and is delivered straight to your account each Monday. Users also receive a Release Radar each Friday, a personalized playlist focusing on new music from all the artists you listen to and follow. The third category of personalized music is Spotify's Daily Mixes — the more genres or different kinds of music you listen to, the more Daily Mixes you get, all of which update every 24 hours to stay fresh.
In addition to personalized playlists, Spotify has countless playlists you can peruse based on mood, genre, country, or even lifestyle. Have a lot of work to get done? Spotify has the perfect playlist of background music for you. Wondering what popular songs in India are right now? Spotify's India Top 50 has you covered. Having a rough year? Spotify has the soundtrack to your life.
You can use Spotify for music streaming on your phone, laptop, or tablet, but Spotify also connects with smart speakers like Amazon Echo and Google Home and recently introduced an app on Apple Watch. With so many things to listen to and so many ways to listen, Spotify's Premium deal is a perfect treat for yourself or your loved ones this holiday season. Because face it: you're about to have Mariah's Carey's Christmas album on repeat for the rest of the year, and her music definitely deserves to be ad-free.