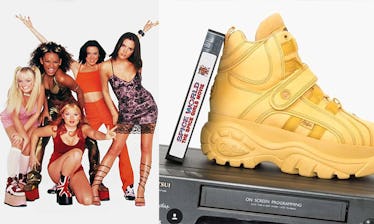 The Spice Girls' Shoes Are Now Available In The USA, So Slam Your Body Down & Wind It All Around
buffalolondon in Instagram/@SpiceGirlsNet on Twitter
Growing up, I lived for the Spice Girls. I collected everything that had their faces printed on it. I think I still have a set of limited-edition Chupa Chups lollipops in a memorabilia-filled bin at my parents house. The only thing I didn't have was the Spice Girls shoes, and man did I want those bad!
I owned the CDs and the movie, both of which played on repeat in my room at all times. I had posters of them taped up on my wall. I even once had a birthday cake with figurines of all five members pressed into the frosting (thanks, mom!). I was Sporty Spice — I wore Adidas tear-away pants, I played softball, I let my big brother draw a fake arm-band tattoo on my bicep with a Sharpie — I was never good at the accent though.
The only time I strayed away from the Sporty-Spice lifestyle was when I searched high and low for those damn platforms. Melanie C preferred normal sneakers, but I wanted the Buffalo London shoes that Ginger, Baby, and Scary Spice made famous. They came in a rainbow of colors, patterns, prints, metallics, you name it, but the real appeal was the sky-high platform.
Unfortunately for 10 year-old me, the official Spice-Girl approved platform brand, Buffalo London, was never available stateside. The closest I ever got to owning a piece of their wardrobe was when my mom bought me a pair of Soda brand sneakers. They were orange and black, and had a foam platform sole about three inches high. Though they weren't nearly as high as those my idolized Spice Girls-owned, I loved those shoes. I kept the pair long after I grew out of them and eventually (sadly) parted with them in a closet cleanout.
I'm only five feet tall, so even now, I live in heels, platforms, wedges, and really anything that gives me extra height. And I'm not saying my obsession with high shoes stemmed from my fan girling over the Spice Girls as a tween, but I'm also not saying it didn't. As a full-blown adult, I'd kill for those sneaker platforms right now.
Lucky for me, the brand Buffalo London, platform sneaker outfitter to the Spice Girls, is bringing back my all-time favorites, and for the first time ever, they'll be available in the US!
Unless you share my affinity for all things girl power, you might've thought the chunky platform shoes would be a style you only break out on '90s-themed nights, Halloween, or the off chance you'd get invited to an underground dance party. But the iconic style has made a full-on comeback and it's ready for world domination all over again, starting with releasing styles stateside. I don't know if it's the resurgence of all things '90s, for the 'Gram, for pure nostalgia, or the fact that somebody out there (like me) never gave up hope on channeling their inner Spice Girl, but I'm not complaining.
If you've ever spend late nights casually poking around eBay for a pair of originals (same!), you're in luck. Not only can you get your hands on the real thing, they won't be a used pair that are actually a half size too small, but you had to have them anyway.
The brand currently has a high-top and low-top version on sale, both colored in a shade of tan reminiscent of another '90s trend: Timberland boots. They'll run you over $200, but if you're anything like me, that's a small price to pay for a piece of your childhood. See below for both styles on sale now:
If the color isn't quite right for you, keep your eyes peeled, because between March and July, Buffalo London will drop up to four different special-edition styles each month (pause for applause). They won't be restocking them, so if you want to channel your favorite Spice Girl, do yourself a favor and say you'll be there.