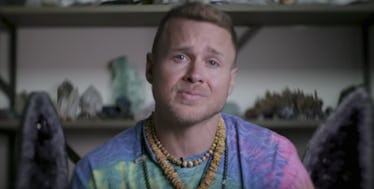 Spencer Pratt's MTV YouTube Show Is Coming & You'd Better Believe Crystals Are Involved
YouTube/MTV
He's baaaack. And he wants to enlighten you. Spencer Pratt is returning to his MTV roots with a brand new series — but this time he's ditching the club fights (RIP Les Deux), the meltdowns, and the drama. The guy's all about love now, people! Spencer Pratt's MTV YouTube show is aptly titled Spencer Pratt Will Heal You, and with it "you're gonna see enlightenment, positive energy, and new tools that can help myself and you all love ourselves." Yes — there will be crystals and what appears to be a nude yoga session.
Allow Spencer to explain. The reality alum says in the trailer:
I'm Spencer Pratt. A lot of you may remember me from The Hills. But a lot of you may only know me from the greatest Snapchat in the history of the world. I choose that one. After The Hills ended I hated who I became, so I set out on a new journey to find love, to heal my mind, body and spirit. And I'm gonna bring you along.
And some of Spencer's healing methods might be slightly unorthodox. "Sometimes you'll be like, 'Is this real? Is he for real?' I'm for real. We're all gonna just get lit off the light and energy of love," he adds. Is he doing yoga with goats?!
Spencer's fondness for practicing spiritual healing through crystals should come as no surprise to viewers who have been following the former Hills star over the years. He even made a business out of his passion, selling a line of crystal kits called Spencer's Rocks in 2017. He then went into the necklace game via Pratt Daddy Crystals — the products sell for upwards of 100 dollars each.
Spencer rose to fame as a cast member on The Hills back in 2007. It was there where he became a designated villain of sorts, teaming up with girlfriend-turned-wife and Lauren Conrad frenemy (well, maybe just enemy), Heidi Montag. But he and Heidi are the real deal. The couple has been married since 2009 and they recently welcomed their first child — a son, Gunner Stone — in October of 2017. These days Speidi have clearly moved on from their rocky reality days and are living in crystal-fied domestic bliss.
When asked about his "worst phase" by Vice last year, Pratt even admitted that his stint on he Hills wasn't his proudest moment.
My worst phase was during The Hills. Do you need me to elaborate? It wasn't true to who I really was. I got caught up trying to be someone I'm not – someone that the audience and the producers wanted. I was just being more and more unnatural.
Now Pratt channels his energy into more helpful hobbies, like hummingbird feeding and making a web series that helps people find their personal zen. But that doesn't mean he's completely let go of the show that made him a household name.
"I am working on The Hills reunion, I've gotten everyone on board except for the amazing L.C.," he told People in February of 2018, referring to Lauren Conrad.
Kristin Cavallari later hinted that Spencer and Heidi may have actually been the ones to opt out of a Hills reunion situation, revealing two people "pulled out" before it came to fruition. Whatever happened, hopefully MTV fans will someday get a chance to see the iconic reality TV cast all in one place again. Just make sure they bring the waterproof mascara.
For now, Spencer is here to help you be the best person you can be. Spencer Pratt Will Heal You premieres on MTV YouTube on May 31 at 4 p.m. EST.