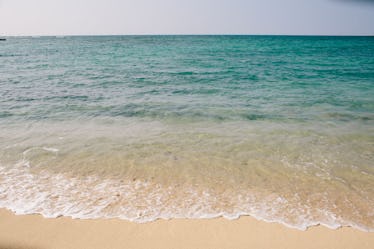 You Can Fly To The Caribbean For Under $60 This Fall With Southwest's New Sale
Summer isn't over yet, and already Southwest Airlines is offering up several attractive fall flight deals to destinations across the continental United States (and even tropical spots, like the Caribbean). If you haven't booked a fall getaway, now may be the time to do so. One way-flights start at less than $60 to certain cities, including warm weather destinations like the Cayman Islands. That's right: Southwest's September and October sale has cheap flights around the country, so pack your bags.
Fall doesn't officially start until Saturday, September 22, but Southwest is looking ahead to help you score a sweet post-summer flight deal. Currently, the airline is offering fares as low as $47 each way. If the Golden State has been on your mind as of late, you'll be into this flight deal for just $47 one way from Las Vegas, Nevada to Long Beach, California. I'm no math wizard, but that's less than $100 for a roundtrip flight. You could be soaking up the sun on a warm west coast beach during October. (P.S. Don't forget the sunscreen.)
That's not the only economical fare you can take advantage of during Southwest's sale. The Dallas-based airline carrier also has flights to the Caribbean for under $60. October weather can be unpredictable, so if you live up in a cold climate, you know it's possible that a random Nor'easter could blow through during the transitional month. If you're smart, you'll be dipping your toes in the white sandy beaches and bright blue water down south. You can fly from Ft. Lauderdale, Florida to Grand Cayman, Cayman Islands for a mere $59. If you live in New York City, you can get to Ft. Lauderdale for $95 one way, or down to Tampa, Florida for $103 each way. Both Sunshine State destinations have endless miles of beach coastline for you to enjoy. You may have to pay a little more if you live up north, but this could be your last chance for a beach vacation this year. When you think about it like that, it's so worth it.
Ft. Lauderdale doesn't have to be your final destination, either. From there, you can travel to Nassau, Bahamas or the Turks and Caicos for $74 one way. The sky's the limit when it comes to available flights included in Southwest's fall travel sale.
If the beach isn't your thing, you might be able to catch the beginnings of the leaves changing in certain destinations. From Boston, you can fly to Atlanta for $69 for a one-way ticket. Typically, the leaves begin to change anywhere from September to November in Georgia. This is a great opportunity to rent a car and drive to Georgia's mountain region to see the warm red, orange, and yellow hues of fall. (Don't forget to grab a PSL from Starbucks for your adventures.)
One of the best things about Southwest is that your first two checked bags can travel with you, free of charge. So in addition to saving big on flights, you're also saving on your luggage when you fly with Southwest.
With prices so low, the fares are bound to sell out quickly. It would benefit you to make your fall travel plans now. Southwest's flight sale ends on Friday, July 20. In order to land one of these high-flying deals, you will need to travel between Tuesday, August 21 and Wednesday, December 19 for domestic travel, according to Southwest Airlines.
It's important to note that these flights are nonrefundable, so just make sure you've cleared the trip with your boss before you book. As with any low-cost travel, Southwest's flight sale is subject to blackout dates, as well as limited seating options, travel days, and availability of certain destinations.