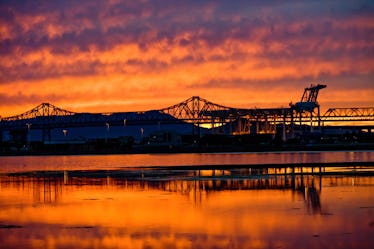 You Can Fly To California For $49 With Southwest's Cyber Monday Week Sale
Attention, travelers: Southwest is currently having a major sale, which means it's not too late to score cheap plane tickets for 2019. In other words, you don't have to worry if you missed out on Cyber Monday discounts, because Southwest is still rolling out the deals. That's right: Southwest's Cyber Monday week sale is here to help you land cheap plane tickets for the new year. Whether you're planning a vacation to a city or the beach, the airline has you covered with ticket prices that probably cost less than your weekly brunch.
I'm not kidding: Some of the flight deals you're going to find on Southwest's Cyber Monday week sale cost less than $50, like this $49 flight from Las Vegas, Nevada to Oakland, California. That's just one cheap ticket that's included in Southwest's current deal — and before I get into even more discounted flights, I'll tell you a little bit more about overall sale.
Southwest's Cyber Monday week sale will only be taking place until Thursday, Nov. 29 — so make sure you book your tickets before then. Yes, that means you might have to think fast if you're hoping to plan a vacation for the new year. But with tickets this cheap, you'll probably be thankful that you planned ahead.
Now that you know how long you have to take advantage of the sale, let's talk about how to find discounted flights. Once you sign onto Southwest's Cyber Monday sale page, go ahead and select your departure city. In order to do so, locate the dropdown menu and scroll through the options until you find a location that's close to you. Once you find your city of choice, click on it. After that, a list of discounted flights from that departure city will populate on your screen. When you find one that you like, hit "Go" and start the booking process. It's that easy.
Regardless of which city you choose to fly out of, you're sure to find a handful of discounted flights. For example, you can fly from Las Vegas, Nevada to San Diego, California for only $59. If you'd rather explore New England, you can fly from Chicago, Illinois to Boston, Massachusetts for only $89. Those of you who'd like to experience Music City can travel from Atlanta, Georgia to Nashville, Tennessee for $65. And if Florida is on your to-go list for 2019, fly from Philadelphia, Pennsylvania to Ft. Lauderdale, Florida for $93. As you can see, you have a ton of options to choose from.
Before you start booking your tickets, there are a few things you should keep in mind. According to Southwest, blackout dates apply to the sale. Those of you traveling within the continental U.S. can fly between Dec. 10, 2018 and May 22, 2019. If you're taking an international trip, you can fly between Jan. 8, 2019 and March 6, 2019, and again between April 23, 2019 and May 16, 2019. And finally, if you're traveling to or from San Juan, Puerto Rico, you can fly between Jan. 14, 2019 and Feb. 28, 2019, and again from April 23, 2019 to May. 16, 2019.
There are a few more things that you should keep in mind. Per Southwest, the discounted tickets are non-refundable. You'll also have to book your flight at least 14 days in advance if you plan on traveling within the continental U.S. For more details on the flight sale, check out Southwest's Terms & Conditions.
Safe travels!