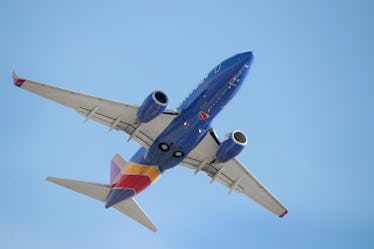 Southwest Airlines Is Now Offering Free Messaging On Flights, So Get To Texting
Scott Olson/Getty Images News/Getty Images
"Flight mode" isn't synonymous with being out of office anymore. With more frequent flyers taking off each year, airlines are keeping up by making mile-high communication with friends, family, and coworkers more cost-effective than ever. Following in the footsteps of Alaska Airlines, Delta, and United, Southwest Airlines is now offering free messaging on flights so that you can stay connected at all times — even 50,000 feet in the air.
According to USA Today, the aircraft company is removing the $2-per-flight price tag on messaging that it has had in place since 2013, instead opting to offer the service to passengers completely gratis. Per the publication, spokeswoman Michelle Agnew said that the carrier began implementing the changes in early September in select aircrafts, and the company is continuing to roll out the new pricing to the rest of the fleet.
Considering that the number of people traveling for business has been steadily on the rise (in 2017, U.S. travelers took 462 million domestic business trips, according to the American Society of Travel Agents), it's fitting that the nation's top carrier for domestic travel would be jumping on the texting bandwagon after Delta, Alaska Airlines, and United implemented the policy changes last year.
Currently, Southwest aircrafts offering Wi-Fi capabilities will let you purchase messaging capabilities separately for $2, or you can pay $8 for the ability to browse the web, send emails, and scroll through social media (messaging is included in this package). With the airline's updated policy, you won't have to wonder if it's worth the hassle of purchasing a Wi-Fi package to alert your S.O. that your flight will be late, or to tell your mom that you're actually getting home earlier than expected and can make dinner after all. Suddenly remember something that you wanted to tell your boss? Instead of jotting the thought down in your notes, you can instantly send her a message with no hassle.
Here's how it works. Southwest customers can send as many instant messages as they want, provided they remember to download the apps before take-off. Otherwise, you'll be stuck paying the regular price if you want to send a text. Users with iOS can stay connected by simply sending texts through iMessage, while Android customers will need to use messaging apps like WhatsApp and Viber because SMS messaging requires cellular networks (which are rendered useless due to flight mode). It's unclear whether Southwest will be taking Delta and Alaska's lead and only allow messages containing text, not larger photo or video files, but it's likely that the free option will be pretty limited compared to the texting capabilities you have on the ground. In their pricing fine print, Southwest already blocks high-bandwidth activity like certain updates and streaming services from Netflix, Hulu, and HBO Go.
As the changes are still being rolled out, you can check to see if your flight will offer free messaging or if you'll need to cough up an extra $2 for the feature simply by going to Southwest's in-flight entertainment portal on your phone, iPad, or laptop. Now that major airlines are making free messaging on-board mainstream, could complimentary web-browsing and email-sending be next? I wouldn't rule it out.