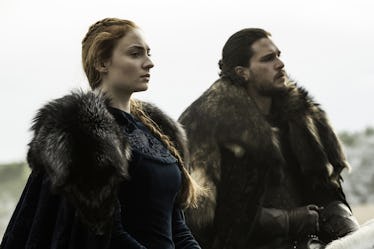 Sophie Turner Just Called 'GOT' Season 8 "Emotionally Torturous" & I'm So, So Scared
HBO/Helen Sloan
Now that former co-stars Kit Harington and Rose Leslie are officially married, the only thing that Game of Thrones fans have left to look forward to is the premiere of the show's eighth and final season in 2019. In true Game of Thrones fashion, details about upcoming episodes are tightly under wraps, but with at least six months to go until there's any possibility of the show returning, cast members have offered up what they can about new storylines. In the latest leakage of little clues about the impending season, Sophie Turner's comments on Game of Thrones Season 8 are a little terrifying. No surprise, but it sounds like absolutely no one is safe in the new season.
In an interview with Gold Derby, Turner hinted that the body count on the upcoming season could definitely increase compared to past years, saying:
It's Game Of Thrones, so it's going to be bloodier and more death and more emotionally tortuous than all the years before.
"Emotionally tortuous?" I would slap that definition on scenes like the Red Wedding in a heartbeat, but what could possibly happen in Season 8 for something to feel even bloodier and more heart-wrenching than that?
At the end of last summer's Season 7, Turner's Sansa organized a trial interrogating Littlefinger, and after presenting the treasonous acts he committed against the Stark family, she ordered Arya to execute him. Meanwhile, the Army of the Dead began marching south, while Samwell and Bran discovered that Jon Snow was a legitimate heir to the Iron Throne.
Some characters known for rarely meeting onscreen came together last season, and Turner told Gold Derby that even more epic reunions or first meetings will occur in Season 8, saying:
I can tell you that there's definitely a coming together of people to fight the impending doom. There's a lot of tension between these little groups, battling for what they think is right.
Turner caused a stir within the Game of Thrones fandom recently when photos of her new tattoo reading "The pack survives." hit the internet. Viewers speculated that it was a valid spoiler alert, meaning that the remaining members of the Stark family survive the entire series. In an appearance on The Late Late Show with James Corden, Turner cleared up this frenzy, saying:
It's just a quote from last season... just a moral that I like to live by. While I was getting it done people advised me not to because it looked like I was giving everything away, but I wasn't!
No matter what direction the final season takes, Sansa's growing, new role as a fierce, confident warrior is bound to be explored. Whether she becomes a physical force on the battlefield or a savvy mental guru in intellectual discussions is unknown, but her path in Season 8 ought to be intriguing. The character's changes in Season 7 surprised some fans, but Turner always had faith in Sansa's ability to flourish, telling Gold Derby:
I always saw something of a warrior in Sansa that I don't think other people really saw. I always had the feeling that she was learning and adapting and at some point or another it was going to manifest itself somehow, and she manifested it into being a warrior. It felt really satisfying when it happened, and I'm really happy where this storyline for her has ended up.
It's definitely satisfying to see this notable character development, but I'm still distracted by her sneaky hint that Season 8 will just be a bloodbath whose aftermath we can't even fathom. I guess it's safe to say that any dead characters won't pull a Jon Snow-esque resurrection in Season 8?
Season 8 of Game of Thrones will premiere on HBO in 2019.